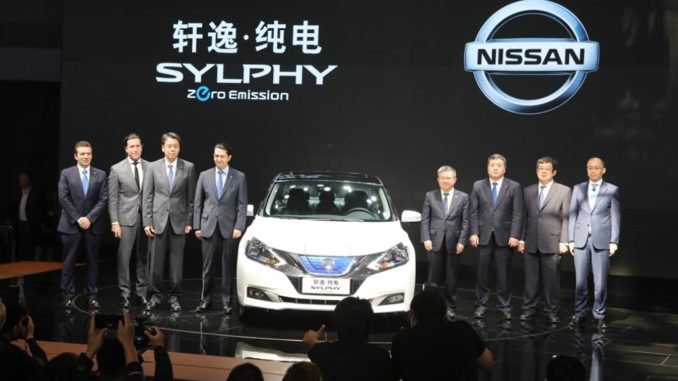 Con la presentazione di tre veicoli a zero emissioni al Salone di Pechino, Nissan conferma il suo impegno nel settore dei veicoli elettrici svelando i modelli Sylphy, IMx Kuro e Leaf.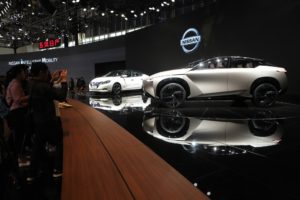 Nissan Sylphy è il primo modello elettrico Nissan realizzato in Cina per i clienti cinesi, che rappresentano la roadmap strategica della Nissan Intelligent Mobility.
José Muñoz, Chief Performance Officer di Nissan e Chairman of the Management Committee per la Cina, in occasione del salone automobilistico di Pechino, ha dichiarato:
"Per una crescita sostenibile in Cina stiamo adottando una strategia fortemente incentrata sulla tecnologia dei veicoli elettrici in linea con la Nissan Intelligent Mobility. Stiamo scrivendo un nuovo capitolo nella storia dei veicoli elettrici in Cina, proponendo ai clienti cinesi modelli elettrificati più stabili e sicuri, garantendo al tempo stesso la migliore esperienza di acquisto".

José Muñoz ha inoltre aggiunto: La nostra ambizione è diventare leader dei veicoli elettrici in Cina proponendo più di 20 modelli elettrificati nei prossimi cinque anni sotto i marchi Nissan, Venucia, Infiniti e Dongfeng.
La Nissan Intelligent Mobility è la roadmap strategica che punta a trasformare il modo in cui i veicoli vengono guidati, alimentati e integrati nella società.
Nissan Sylphy Zero Emission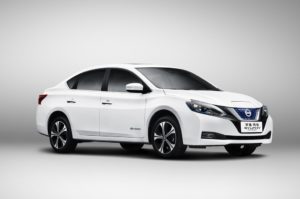 Presentata in anteprima al Salone, la nuova Nissan Sylphy Zero Emission unisce da un lato le caratteristiche che hanno decretato il successo di Nissan Sylphy – durata, qualità, affidabilità e valore – dall'altro un gruppo motore 100% elettrico.
Trattandosi della prima auto elettrica prodotta su larga scala in Cina, Nissan Sylphy Zero Emission integra la struttura e le tecnologie di Nissan Leaf, il veicolo elettrico più venduto al mondo. Il nuovo modello offre opzioni di ricarica rapida e un'autonomia di percorrenza fino a 338 chilometri, secondo gli standard normativi locali. (L'autonomia di percorrenza è calcolata in base ai risultati SMVIC che fanno riferimento agli standard NEDC e agli stili di guida.)
Non mancano le tecnologie legate alla Nissan Intelligent Mobility, come l'avviso del cambio di corsia involontario, il sistema di frenata d'emergenza intelligente, il sistema di rilevamento posteriore degli ostacoli e l'avviso angolo cieco. Le vendite inizieranno entro la fine del 2018.
Nissan IMx KURO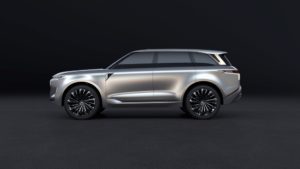 Il crossover elettrico Nissan IMx KURO offre ai visitatori un'anteprima del futuro della Nissan Intelligent Mobility. Tra le funzioni all'avanguardia del veicolo emergono l'esclusiva tecnologia Brain-to-Vehicle di Nissan, che intercetta e analizza le onde cerebrali del conducente per migliorare i tempi di reazione e favorire il comfort al volante.
Nuova Nissan LEAF
Nissan ha portato all'Auto China 2018 anche la nuova Nissan LEAF, eletta "2018 World Green Car" all'ultimo Salone dell'Auto di New York. Nissan sta valutando la possibilità di lanciare la nuova Nissan LEAF in Cina entro la fine di quest'anno. Nissan LEAF è infatti uno dei 20 modelli elettrici che Nissan intende lanciare in Cina nei prossimi cinque anni sotto i marchi Nissan, Venucia, Infiniti e Dongfeng. La vettura è l'icona della Nissan Intelligent Mobility e il veicolo elettrico più venduto al mondo con oltre 320.000 unità.
Un'altra presenza di spicco al Salone è la tecnologia Nissan e-POWER, già vincitrice di un prestigioso premio giapponese a favore dell'ambiente per il suo contributo nella riduzione delle emissioni di CO2. Questa tecnologia sarà introdotta in Cina nei prossimi anni.
Nuovo SUV Nissan TERRA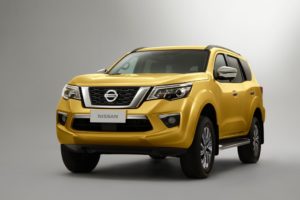 In rappresentanza dell'ampia gamma Nissan un altro protagonista di Auto China 2018 è il nuovo SUV Nissan Terra. Questo modello si basa sulla tradizione di Nissan in materia di SUV e integra al tempo stesso l'esperienza di Nissan nell'ambito dei veicoli commerciali leggeri.
Contraddistinto da un'estetica moderna e da un abitacolo spazioso e accogliente Nissan Terra è un veicolo robusto e pratico, su strada e off-road. È un prodotto chiave del piano a medio termine "Nissan M.O.V.E. to 2022".
Nissan sta intraprendendo un percorso volto a realizzare una crescita sostenibile e ad affermarsi come azienda leader per le tecnologie di mobilità intelligente in Cina.