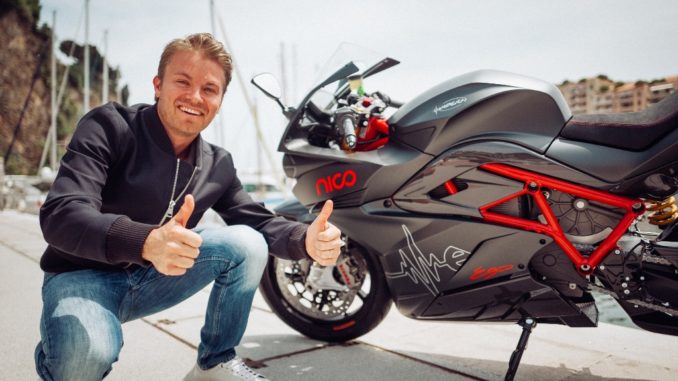 To support many children and families in precarious situations after Covid-19, Nico Rosberg decide to raffles off his electric Energica Ego.
Formula 1 world champion and sustainability entrepreneur Nico Rosberg is giving away his electric supersport motorcycle to raise money for charities.
The online raffle was launched on June 16 on the fundraising platform www.viprize.org/rosberg and runs until August 12, 2020.
Anyone entering the raffle has a chance to win Nico's custom designed Energica Ego electric sportbike, which will be handed over by Nico Rosberg personally during a Meet & Greet in his hometown Monaco. Travel and accommodation for the winner and a companion are included in the price package, as well as the shipping cost for the motorcycle. Everyone registering for a donation will have the chance to win. The more money donated, the more raffle tickets will be provided, thus, the higher the chances are to win. In addition, several other prizes are up for grabs, such as a signed mini replica of Nico Rosberg's famous F1 helmet, signed mini cars, a limited edition of the book "Finally", which documents Nico's Formula 1 World Championship title in 2016, and signed autograph cards.
The Energica Ego is a fully electric high performance motorcycle with 107kW (145 hp) and 200Nm torque delivered by a Permanent Magnet AC power unit with a battery capacity of 11.7 kWh. With a top speed of 150mph (240km/h) and an acceleration of 0-100kph in less than 3 seconds, it is one of the world's most powerful and advanced electric motorcycles on the market. Custom designed specifically for Nico, the Energica Ego includes several unique features, such as DC Fast charging, a matt black livery, just like Nico's F1 helmet, aluminum forged wheels, carbon fibre custom fairings, a tech seat with red seams, OHLINS suspensions at front and back and Nico's logo on the side.
The money raised through the raffle will be donated to two charities close to Nico's heart: The German charity foundation "Stiftung RTL – Wir helfen Kindern e.V." and their partner "Nestwärme e.V." support families with seriously ill or disabled children in homecare, which has become more difficult and costly as a result of the Covid-19 pandemic.
The Italian Red Cross' project "The Time of Kindness" is helping families in Italy that have been hit hardest by the crisis and are in need of financial support. A campaign named "Time of Kindness" was started to provide, a.o., shopping vouchers and food donations. One hundred percent of each donation goes into these two charity projects.
Source: Energica Motor Company