Polini Motori presents the new Polini E-P3+ motor for e-bikes, revolutioning the concept of pedal assisted bikes with the last generation motor.
The new motor is signed with the "+"(plus) to underline the novelties and the important step forward thanks to the never ending analysis, the study and commitment in designing it, always looking for better performance.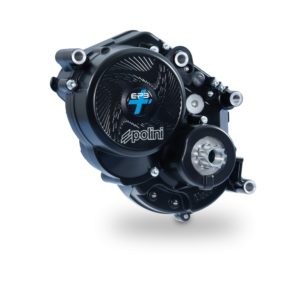 Light, powerful and compact, Polini E-P3+ motor features a very reduced volume and it exploit a 75Nm torque in the E-P3+ (ROAD) and 90 Nm in the MX model (for MTB) for the most demanding users. It weights 2950 grams and it has 5 maps, 3 pre-set ones and 2 maps to be set:
– Touring: gentle and progressive, ideal for the daily use and more operating time.
– Dynamic: sportive soul, but at the same time natural and punctual
– Race: without setting for compromise, a real racing map, to offer the best performance (set up coming from the experiences acquired during both the World Series Championship and FMI Italian Championship).
– Custom 1/Custom 2: fully configurable by the user though the APP for smartphone available from Autumn 2021.
The electronic is really innovative and it uses algorithms coming from Motorsport origin.
The "Polini Dynamic Control" PDC software has been developed to reach 4 main goals:
Precision of assistance torque output always according to the effort applied by the cyclist on the pedals;
Reactivity to follow the pedaling variations;
Motor response time reduction when starting pedaling reducing to zero the time of interruption of thrust when stop pedaling.
Increase of the active assistance till 120 rpm
The TFT Display is easy to read thanks to the adaptive light 2,5' color screen, with automatic adaptation of the color and intensity according to the ambient light. Furthermore it shows precisely the cyclist pedaling power, the cadence, the motor power and residual range.
Polini Motori renews its care to the customers needs and its engagement in the e-bike world and it is ready to a new sporting season together with the new Polini E-P3+ motor.
Source: Polini Motori