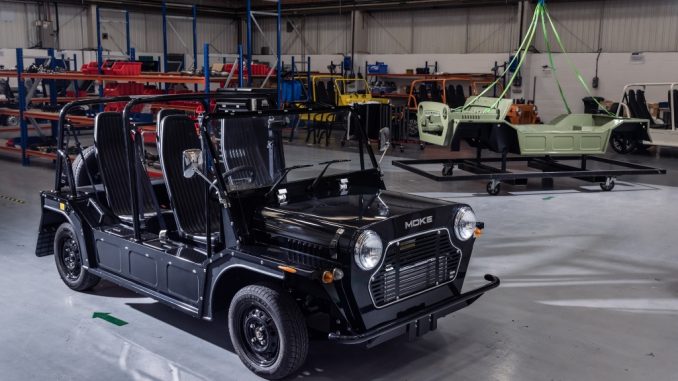 Moke International announced last October 14th that from January 1st 2022 will no longer be possible to order Internal Combustion Engine (ICE) Mokes.
The company will became full electric and the first electrics Mokes can be reserved now with first deliveries scheduled in time for the 2022 European summer season.
Moke going electric secures the appeal of one of Britain's best loved marques for many generations to come. Moke's marriage of fun, personality and open air thrills will only be enhanced through the performance and silent running of an electric powertrain. We are proud to write a new chapter in one of British automotive folklore's best love stories – said Isobel Dando, CEO, Moke International.
Customers that wishing to acquire the last ICE Mokes can do it through Moke's official UK distributor, the Hendy Group.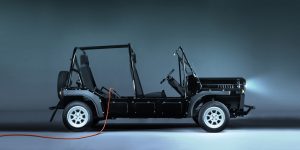 The introduction of full electric Mokes reflects consistent customer demand for an evocation of one of the best loved vehicles in the world ready for the pressing global requirement for clean-air powertrains. Indeed, electrification enhances the unique promise of Moke with significantly increased performance married to the benefits of a silent powertrain for undisturbed open-air motoring.
Nothing matches the thrill of traversing the world's most beautiful beach resorts in an open-top Moke. This experience is only made more fun through the instant and silent power delivery derived from an EV powertrain. Indeed, the new Moke sprints to 55 km/h in just 4.5 seconds. Maximum power of 33 kW proves plenty for a vehicle that weighs just 800 Kg. Range is fit for 5 round trips between Cap-Ferrat to Monaco (14 4km). Charging takes 4 hours on the Type 2 EU Standard and top speed is 100 km/h.
All Mokes can be ordered in Right or Left Hand Drive. Prices start at £29,150 + VAT. Deliveries will be made in time for the 2022 European Summer. Battery cells, motors and inverters are all sourced from Tier 1 European suppliers and have been bespoke engineered in the United Kingdom.
Moke – Ready for a new generation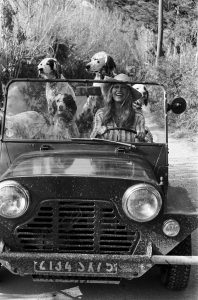 Electrification writes a bold new chapter for one of British automotive's most loved and storied marques. The Moke was the brainchild of legendary Mini designer Sir Alec Issignois. He was tasked to create a vehicle robust enough to be parachuted behind enemy lines from an aeroplane. The Moke proved far more popular with a 1960s glamour-set that included The Beatles, The Beach Boys and Brigette Bardot, in doing so establishing its legend as the ultimate beachouse-to-waterfront shuttle.
Moke International revived the brand in 2017 introducing a number of special editions that have proven highly popular amongst Moke offician ods and an entirely new generation of fun-seekers. This commercial success has underpinned the significant investment in securing the long-term future of the brand through electrification.
Proudly manufactured in the United Kingdom
All electric Mokes will be manufactured in the marque's home, the United Kingdom at a state-of-the-art facility operated by the Fablink Group. The company is headquartered in Northamptonshire, the centre of Britain's automotive heartland and attracts some of the most talented manufacturing, technical and engineering professionals in the industry.
Indeed, all electric Mokes will be handcrafted by an expert team from a company with experience providing design, manufacturing and engineering services to some of the world's leading automotive manufacturers including Jaguar Land Rover and Morgan. The company has over 500,000 sq/ft of production space and employs around 700 highly skilled engineers, production operators and technicians across six UK sites.
This long-term strategic commitment to UK manufacturing has been made enabled by UK government grant funding from the Niche Vehicle Network, alongside the recent trade deal which allows UK automotive businesses tariff-free access to EU markets, based on defined rules of origin. The company has reaffirmed its commitment to the UK with the creation of a number of key jobs in commercial functions.
Engineering and design
To deliver on the promise of a next-generation powertrain vehicle, Moke has gathered a team under the leadership of former Rolls-Royce product lead, CEO Isobel Dando. These highly skilled engineers, designers and technicians are drawn from some of the leading names in automotive engineering and design including: Polestar, Jaguar Land Rover, Rolls-Royce, MINI and BMW.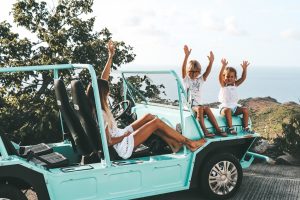 Together they have created a contemporary interpretation of Mokes classic open-top driving dynamics with full scope for clients to personalise the vehicles to their exact tastes and sensibilities. The engineers have a focus on maintaining the sense of fun and freedom that has endeared the car to so many for more than five decades.
The new electric Moke has been designed from the ground-up with a view to significantly enhancing the driving experience. The use of aluminium panels has significantly reduced the weight of the vehicle for a more agile ride, while the instant torque from the electric motor dramatically enhances acceleration and driveability. The electric Moke benefits from a number of other updates across the vehicle from improved braking systems to increased occupant and pedestrian safety features. Finally, power-steering, regenerative braking and heated windscreens delivers ease-of-use. All luxuries far beyond Issignonis' original brief.
Specifications
Powertrain: Real wheel direct-drive (LHD and RHD)
Motor Type: Three-phase AC Synchronous
Range: 144km
Charge Time: 4 hours
Top Speed: 100 km/h
Max Power: 33kW
Charger Port Type: Type 2 (EU Standard)
Dimension LxWxH: 3225x1660x1546mm
Mass: 800Kg
Ground Clearance: 18cm
Source: Moke International