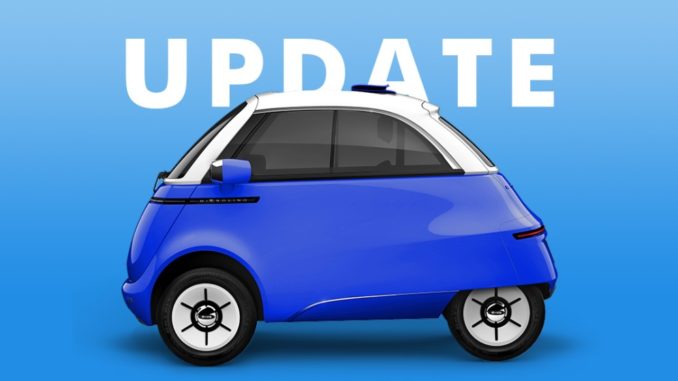 Micro continuos the development of Microlino 2.0 and actually the first prototype chassis with the new drivetrain and suspension system is actually under test.
Swiss company declared that in January will be finished the first complete prototype with all components and despite COVID 19, the production will start in 2021.
Micro AG also comunicate that Mr. Hans-Peter Kleebinder, Ex General Manager of MINI Germany and CMO of Audi Germany has joined the company advisory board.
About development
Despite the challenging times, Micro said in the press release that they are making good progress in the development of the new Microlino 2.0, finished the virtual integration of all technical components into their newly designed chassis, such as the complete drivetrain, the front and rear suspension, the new folding roof and the lights. Now the next step will be test that what they have on their computers in the real world with prototypes.
Therefore, they built up a prototype-chassis to test the new drivetrain and their new rear axle. The first tests have already shown a great improvement in the handling and comfort compared to the Microlino 1.0.
Look-out prototypes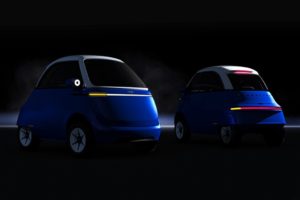 Micro has started building up the first complete prototype with all the components (lights, folding roof etc.) which will be finished in January. They will build 5 prototypes in total, and each will be built several weeks after the previous prototype.
On the organisational front, Micro announced that Hans-Peter Kleebinder, ex General Manager of Mini Germany and CMO Audi Germany, has joined the Company Advisory Board. Hans-Peter was responsible for the market launch of the Mini Clubman and Convertible and was our first Microlino 1.0 test driver in Germany. He will support the market launch of the Microlino 2.0 with his many years of experience in the automotive sector.
Product news
Microlino has exciting news for the interior. The design of the dashboard that has been presented in the Microlino 2.0 show car, will be adopted into the serial version. The only difference is that Micro decided to replace the switches/buttons on the central bar with a touch display that allows the automaker more flexibility to add new functions. This means that Microlino will now have two displays in the car, one behind the steering wheel as a speedometer and a smaller touch display integrated in the central bar to control functions like the heating etc.
Another product feature that will be included into the serial production is the front and rear LED light bar that became a signature design element of the Microlino 2.0. The LED light bar will include position light, turning light and braking light and the Microlino will be the first vehicle inthe L7e category that features this technology.
Source: Micro AG