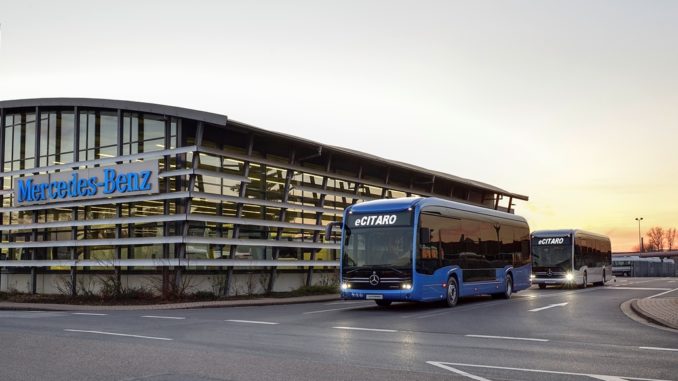 The fully-electric low-floor Mercedes-Benz eCitaro urban bus show in central focus at Global Public Transport Summit (GPTS) in Stockholm.
"The Art of Public Transport" is the motto of the Global Public Transport Summit (GPTS) from 9 to 12 June in Stockholm.
With more than 2000 buses, hundreds of trains, dozens of ferries and artistically designed metro stations, the Swedish metropolis of Stockholm is a vitrine of variety when it comes to public transport. And this perfect shop front is used by Mercedes Benz as part of their GPTS presence.
Delegates from around the world will be shown the fully-electric eCitaro from Mercedes Benz, as well as receiving information about the entire urban bus programme and the various drive systems available. Further focal points include advisory service, such as eMobility Consulting and the varied and continually advancing digital services from Omniplus On.
The big Citaro family: one for all in urban and inter-city transport
Citaro solo bus, Citaro G articulated bus, Citaro K short variant, Citaro LE low-entry bus, the Citaro Ü, Citaro GÜ, Citaro LE Ü and LE MÜ inter-city versions – the Citaro is one for all.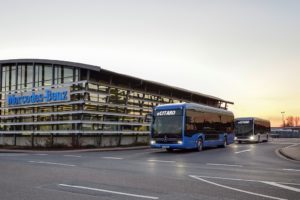 Equally diverse as the model range is the choice of drive technologies on offer for the Citaro. In particular focus is the fully electric eCitaro.
The basis of its energy efficiency is an innovative thermal management system which sets benchmarks. The concept is particularly interesting to transport companies – the numerous orders already received emphasize this statement. The sustainability which the eCitaro offers provides an outlook into upcoming battery technologies, including the ground-breaking solid-state batteries with very high energy density.
More than just an urban bus: the comprehensive eMobility system from Mercedes-Benz
Electric mobility means rethinking urban mobility with buses. And that's why e-mobility at Mercedes-Benz is more than just an urban bus, it's a comprehensive system made of several components.
The comprehensive eMobility system takes into account things like the power supply, charging infrastructure, rotational planning, telematics systems, service concepts and, last but not least, the training of employees.
Mercedes Benz eMobility Consulting provides guidance and assistance in the planning and implementation of e-mobility. Omniplus and the authorised service partners make sure of the eMobility Service. It includes tailor-made components, such as Service Contracts and a complete training concept.
Omniplus On: digital services for bus fleets
Thanks to Omniplus On, service has gone digital and a whole range of totally new possibilities have been opened up to bus companies and drivers alike. Omniplus On stands on four pillars:
"Omniplus On advance" secures maximum fleet availability for bus companies, e.g. using the Omniplus Uptime service for monitoring the vehicle systems in real time.
"Omniplus On monitor" brings together telematics services for efficient fleet management.
"Omniplus On drive" assists the driver, for example, in carrying out the prescribed daily departure checks.
"Omniplus On commerce" enables bus firms to enjoy a rapid and targeted purchasing process around the clock, for example for replacement parts from the Omniplus eShop.
The show vehicle: two-door Mercedes-Benz eCitaro
The exhibited vehicle boasts elegant metallic anthracite paintwork to go with its distinctive eCitaro design. The urban bus features ten battery modules which deliver a total capacity of 243 kWh and thus a range of around 150 km in accordance with SORT 2 in the demanding warming period and around 250 km in ideal conditions. As an option, twelve battery modules with a correspondingly greater vehicle range are also a possibility. Due to the six battery modules on the roof, the vehicle is equipped with roll and pitch control for the suspension.
Two electric inward-swivelling doors open into the passenger compartment. This enjoys fully automatic air conditioning as standard thanks to the highly efficient Evo Thermatic Plus system with heat pump. Passengers can relax on "City Star Eco" seats from Mercedes-Benz. Grab bars in Evo Steel, black ceiling hand rails and the designer interior ceiling with innovative lighting provide visual accents. Passengers can access information from a 29-inch TFT monitor in the cross-aisle. They can use their own portable devices from a total of 14 double USB ports. The driver benefits from a climatised seat. The cockpit is as accustomed, except that the rev counter is replaced by a power meter that displays the energy flow of the eCitaro.
Technical Data
Length/width/height

12,135/2550/3400 mm

Wheelbase

5900 mm

Batteries

Lithium-ion batteries,
10 modules, 243 kWh total output

Engine type/emission standard

Wheel hub
asynchronous motors

Power

2 x 125 kW

Max. torque

2 x 485 Nm

Front axle

ZF RL 82 EC, independent suspension

Drive axle

ZF AVE 130
Source: Daimler AG