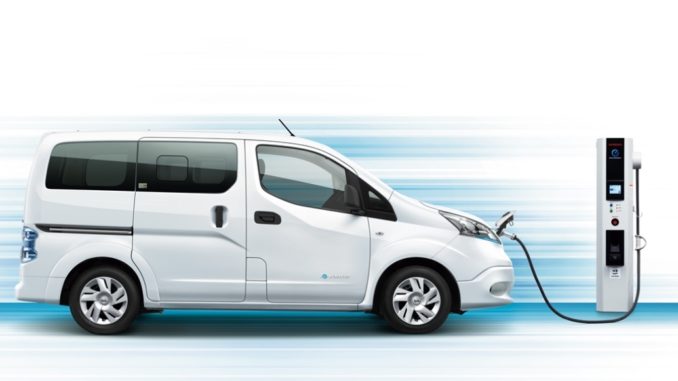 Nissan upgrade his electric commercial vehicle e-NV200 offering and increase range and longer battery life and began taking orders. Deliveries of the vehicle will begin in Japan in December.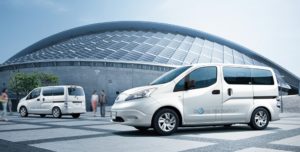 The Nissan e-NV200 features a new 40 kilowatt-hour battery, which gives the vehicle a range of 300 kilometers under Japan's JC08 standard. It combines excellent load capacity and a driver-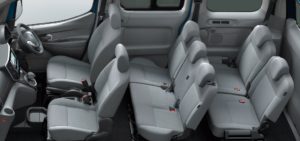 friendly cabin with brisk acceleration and a superior quietness that only a pure electric vehicle can offer.
The new e-NV200 can also operate as a mobile power storage unit. The vehicle's Power Plug, a 100-volt outlet, can provide electricity for tools and equipment. With the optional EV Power Station installed, the Nissan e-NV200 can even supply electricity to offices and shops and serve as a backup power source during blackouts and emergencies.
Main improvements to the Nissan e-NV200 include: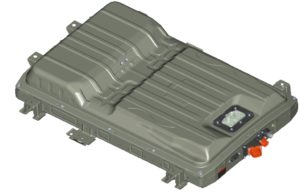 High-capacity 40kWh battery
The new, high-capacity 40kWh battery gives the Nissan e-NV200 a driving range of 300 km (JC08 mode). This allows the driver to travel farther on a single charge and also reduces the frequency of charging.
Power supply from Power Plug increased to 15 hours
Thanks to the new 40kWh battery, 1000 watts of power from the Power Plug can be accessed for up to 15 hours, up from eight hours in the current model.
Improved battery life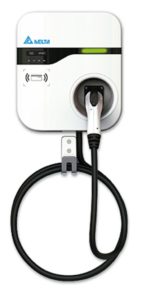 Thanks to enhanced battery capacity and durability, the Nissan e-NV200 offers a longer battery life. The battery's warranty has been extended to eight years and 160,000 km, up from five years and 100,000 km previously.
A full charge in eight hours, even with higher capacity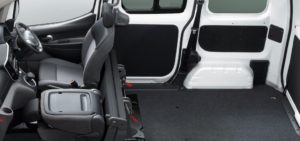 The Nissan e-NV200's standard-equipment normal charger now has a capacity of 6 kW, up from 3 kW. By adding a wall-mounted 6kW normal-charging system, the 40kWh battery can be fully charged in about eight hours – roughly the same as the previous standard charger – at places such as a customer's office or shop.
Other changes:
Power Plug is now standard equipment in all models.
NissanConnect (built-in terrestrial digital broadcasting) navigation system (wagon), offers improved convenience and operability with added DVD playback function, music box function and finger-gesture operation.
Auto-light system is now standard equipment (all models).
UV-cut insulated privacy glass on the sliding door, back door and sliding side window on both sides is now standard equipment (van, excluding route van).
A new exterior color, Excellent Blue, has been added, bringing the number of colors to five.
1) The maximum load is a total of 1500 watts from two outlets. Duration of supply may vary depending on vehicle status (battery level, Power Plug user-controlled settings, etc.)
2) 6kW wall-mounted normal charger is sold separately. When using a quick charger, it's possible to charge the battery to about 80% in about 40 minutes.
Retail price (including consumption tax) (Unit: yen)
| | | | | | |
| --- | --- | --- | --- | --- | --- |
| Car Type | Drive | Prime Move | Grade | Capacity | Price |
| Van | 2WD | EM57 | GX Route Van | 2 | 3.954,96 |
| | | | GX | 2 | 3.954,96 |
| | | | GX | 5 | 4.054,32 |
| Wagon | 2WD | EM57 | G | 5 | 4.600.80 |
| | | | | 7 | 4.762,80 |