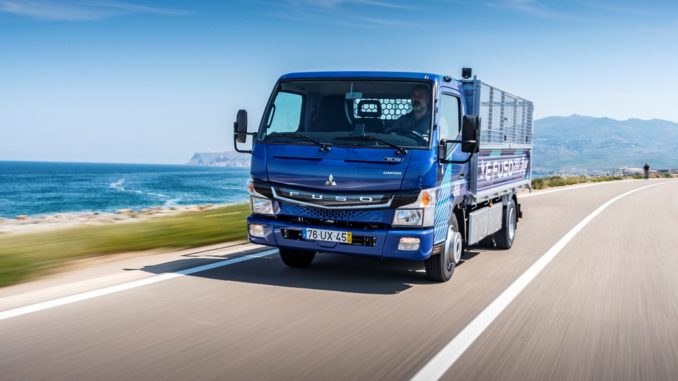 Daimler Trucks is handing over ten all-electric light-duty FUSO eCanter trucks to the city administration of the Portuguese capital.
FUSO, the Japanese commercial vehicle subsidiary of Daimler, is deemed a pioneer for electric driving in trucks. In 2015, the Portuguese cities of Lisbon, Sintra and Porto were already able to test the pre-series Canter E-Cell in real-life everyday transport operations.
As a 7.5 tonne-vehicle, the FUSO eCanter has a range of around 100 km. The city of Lisbon uses the vehicles for municipal gardening trips and for waste disposal. With the FUSO eCanter, Lisbon is hoping to contribute to the reduction of local noise and emission pollution caused by commercial vehicles used in urban areas.
This means that since 2017, the FUSO eCanter is now in use in six cities around the world in Tokyo, New York, Berlin, London, Amsterdam as well as Lisbon.
FUSO produces the eCanter for the markets Europe and the USA as standard in the Tramagal plant (Portugal) – on the same production line as the conventional Canter, one of the best-selling trucks from Daimler's commercial vehicles portfolio. The FUSO production facility in Tramagal proudly looks back on more than 50 years of tradition and is an important element of the Portuguese economy.