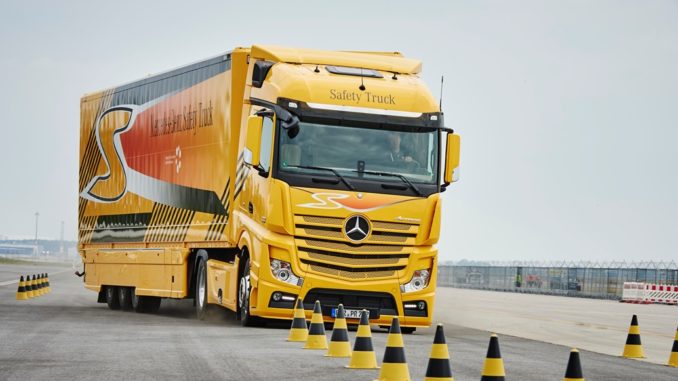 Vehicle manufacturers like Mercedes-Benz Trucks and politicians are in agreement: they want to reduce the dependency on oil and, by 2030, reduce greenhouse gas emissions by 30 percent on average compared with 2005 – an ambitious undertaking.
Mercedes-Benz Trucks is therefore consistently continuing to optimise the conventional diesel powertrain – as it has done for decades. At the same time, the agreed long-term reduction targets can only be achieved by developing low-CO2 and zero-CO2 fuels and alternative drives. Mercedes-Benz Trucks is adopting a multi-pronged approach here, tailored to the particular area of use.
Electric drives for distribution haulage, long-distance haulage likewise a focal point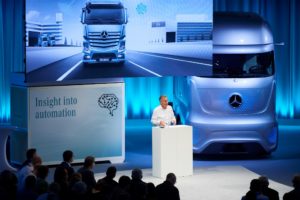 Mercedes-Benz Trucks will increasingly focus on electric drives in future. A typical application area will initially be heavy-duty urban distribution haulage. Alongside payload and load volume, main requirements here include sustainability and quiet operation. Given the frequent stopping, braking and acceleration, it is precisely here that the advantages of battery-electric drive technology can be used to the full because the electric motor can recuperate energy.
With the Urban eTruck concept vehicle unveiled at the 2016 International Commercial Vehicle Show, Mercedes-Benz Trucks became the first manufacturer in the world with a heavy-duty electric truck. The technology pioneer is now taking the next step: with the eActros, Mercedes-Benz Trucks will shortly be putting its first all-electric truck for heavy-duty distribution haulage out on the road with customers.
Two variants with a GVW of 18 t and 25 t respectively will be delivered to customers in 2018 to test suitability for daily use and economy under real conditions. The long-term aim: locally emission-free driving in urban environments with series-production trucks.
At the same time, Mercedes-Benz Trucks validates technologies that will also be able to power heavy-duty long-distance-haulage trucks without emissions in future. In this case, high payloads in combination with high mileages and very high levels of availability will play a particularly important role.
Close collaboration between the development engineers at Daimler's various truck brands helps here: the company recently presented the Freightliner eCascadia, a heavy-duty electric truck for long-distance operations (>15 t GVW) in Portland (Oregon).
A fully-electric variant – the Freightliner eM2 106 – covers the medium-duty segment (9 t to 12 t GVW) in the North American market. Daimler Trucks North America (DTNA) is planning to hand over an innovation fleet of around 30 electric trucks to the first customers in the USA during the course of this year. As is already the case with the fully electric FUSO eCanter light-duty truck and the medium-duty Mercedes-Benz eActros, Daimler's aim here is to obtain new findings together with customers and establish how electric trucks can be employed as efficiently as possible in day-to-day transport operations.
Natural-gas drives already available on the market for municipal vehicles
Natural-gas drive is one of the most marketable alternative drive concepts. Arguments in its favour include the fact that it burns the fuel more cleanly than diesel drives and therefore requires less complex exhaust gas aftertreatment, which reduces both system costs and weight. Furthermore, natural-gas engines generate around ten percent less greenhouse gas than their diesel equivalents and up to 20 percent less than their petrol counterparts. When biomethane is used in its pure form or as an admixture, well-to-wheel CO2 emissions are even lower still.
With the Econic NGT (Natural Gas Technology) available since 2014 already, Mercedes-Benz Trucks offers a vehicle with an engine that runs on compressed natural gas (CNG) in its product portfolio. The use of new technologies for highly efficient combustion of natural gas in diesel engines can make natural gas increasingly appealing, even for heavy-duty trucks used in long-distance haulage.
High-efficiency fuel-cell drives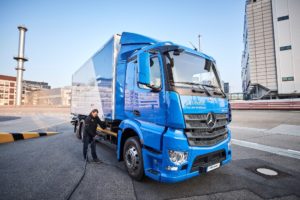 The fuel-cell drive uses the chemical reaction of hydrogen with oxygen to generate power, which allows an electric motor to be driven. It boasts up to 55 percent efficiency, making it far more efficient than a combustion engine. This means that the total energy balance is better, too.
There is no question about the potential of fuel-cell technology and the use of hydrogen as an energy store. Hydrogen therefore plays a big part in the worldwide climate discussions. Hydrogen generated using renewable energy above all enables a substantial reduction in climate-damaging CO2 emissions. The operation of such a fuel-cell vehicle causes neither local pollutants nor CO2 emissions. The only emission is water vapour.
Alliance for hydrogen infrastructure
As well as being environmentally compatible and offering a high level of performance, hydrogen as an energy source is easy to transport and allows fast refuelling. These are the reasons why the developers at Mercedes-Benz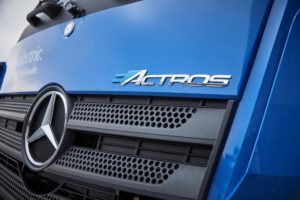 Trucks are keeping very close tabs on the options this technology offers for road freight transport. Alongside these activities, Mercedes-Benz is involved in the on-going activities for continually expanding the existing H2 filling station network. The commercial-vehicle requirements are becoming increasingly important here.
The decisive factor with regard to the market penetration of fuel-cell technology is the existence of an effective network of hydrogen filling stations. With the establishment of the cross-industry joint venture H2 MOBILITY Deutschland GmbH & Co. KG back in 2015 together with Air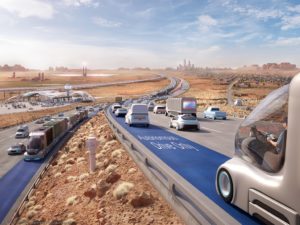 Liquide, Linde, OMV, Shell and Total, Daimler AG laid the foundations for gradually expanding the Germany-wide hydrogen filling station network to up to 400 stations by 2023.
The German H2 filling station network has been growing at an increasing rate since the joint venture was established: On 5 March 2018 the Total filling station in Ingolstadt became the 45th German hydrogen filling station to open for business.
The plan is for a network of up to 400 hydrogen filling stations to be in place by 2023. Similar infrastructure projects are being advanced on European and international level, too (particularly in Japan, but also in the USA and Korea).