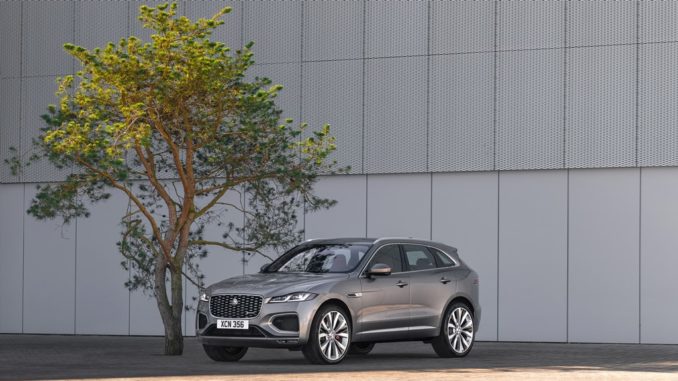 The new Jaguar F-Pace is more luxurious, connected, efficient and now is powered by in-line four and six-cylinder engines including PHEV and MHEV technology.
The new exterior design gives the award-winning F-Pace performance SUV a cleaner, more assured presence, featuring a new sculpted bonnet with a wider power bulge and smoother, more precisely defined surfaces.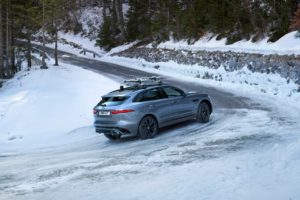 New super slim all-LED quad headlights with 'Double J' Daytime Running Light (DRL) signatures, which are available with optional Pixel LED technology, deliver increased resolution and brightness.
Premium LED technology is fitted as standard across the range and is available with Auto High Beam Assist on SE and HSE models. The technology uses the forward-facing camera to automatically switch between high and low beam, reducing risk of dazzling oncoming drivers. Animated Directional Indicators are also available on all models when fitted as part of additional linked options, and provide heightened sophistication.
At the rear, new slimline lights feature Jaguar's double chicane graphic – first previewed on the all-electric I-Pace – to accentuate the width of the vehicle.
All-new, crafted interior
The F-Pace has an all-new interior with heightened luxury, enhanced connectivity and greater serenity and refinement. The new cockpit design is bolder, more dynamic and with greater focus on the driver. A new sporty centre console, faster in profile, sweeps up to the instrument panel and incorporates an optional wireless charger and greater console stowage.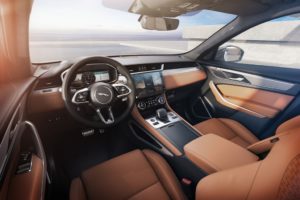 The new Drive Selector – just one of the many beautiful details – features an upper section finished with 'cricket-ball' stitching, the lower part being made of precision-engineered metal for enhanced tactility.
New seats feature wider cushioning, new massage functions and enhanced coverage of the heated and cooling areas. An embossed Jaguar Leaper features on the headrests of selected models, while a set of 'Est.1935 Jaguar Coventry' upholstery tags highlight the brand's heritage.
A series of advanced technologies ensure the health and wellbeing of all occupants. Cabin Air Ionisation improves interior air quality through Nanoe technology, which removes allergens and unpleasant odours. The system now also features PM2.5 filtration, which captures ultra-fine particles – including PM2.5 particulates – to improve occupant health and wellbeing. The customer activates the system simply by pressing the 'Purify' button.
Plug-in power and performance
The new F-Pace is available with the P400e PHEV powertrain as well as the latest four-cylinder and new in-line six-cylinder petrol and diesel Ingenium engines. Mild Hybrid Electric Vehicle (MHEV) technology is also available on selected engines for the first time. All F-Pace models feature intelligent all-wheel drive and eight-speed automatic transmissions. The full powertrain range is:
Diesel
163PS MHEV 2.0-litre four-cylinder turbo, eight-speed automatic, AWD
204PS MHEV 2.0-litre four-cylinder turbo, eight-speed automatic, AWD
300PS MHEV 3.0-litre six-cylinder turbo, eight-speed automatic, AWD
Petrol
250PS 2.0-litre four-cylinder turbo, eight-speed automatic, AWD
400PS MHEV 3.0-litre six-cylinder e-s/c and turbo, eight-speed automatic, AWD
404PS PHEV 2.0-litre four-cylinder turbo, eight-speed automatic, AWD
The new 2.0-litre four-cylinder PHEV model produces a combined 404PS and 640Nm from its petrol engine and 105kW electric motor. The advanced electric motor is powered by a 17.1kWh lithium-ion battery and helps contribute to CO2 emissions from 49g/km and fuel economy of up to 130.2mpg as well as impressive performance figures of 0-60mph in 5.0 seconds.
When fully charged, the new P400e is capable of up to 33 miles of all-electric driving, enabling the new F-Pace PHEV to complete the average UK daily commute, of 18.8 miles to and from work, in EV mode without requiring a recharge. Fast Charging (32kW DC) is capable of delivering 0-80 per cent charge in 30 minutes while a domestic 7kW wall box can provide a charge of 0-80 per cent in as little as one hour 40 minutes.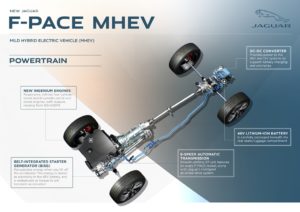 Advanced MHEV technology, available on the four- and six-cylinder diesel engines and featured on the six-cylinder petrol powertrain, uses a Belt integrated Starter Generator (BiSG) to harvest energy usually lost when slowing and braking. This energy is then stored in a separate 48V lithium-ion battery before being intelligently redeployed to assist the engine when accelerating away, as well as delivering a more refined stop/start system.
With MHEV technology, the next-generation 163PS 2.0-litre four-cylinder Ingenium diesel engine achieves CO2 emissions from 163g/km* and fuel economy of up to 45.4mpg*.
The new F-Pace chassis has been updated to support the introduction of the new electrified engines as well as enabling the latest JaguarDrive Control and new Auto Vehicle Hold.
The latest JaguarDrive Control features Comfort, Eco, Rain-Ice-Snow and Dynamic modes, which can be chosen manually by the driver based on the road conditions. The settings, selected through a new rotary dial next to the all-new Drive Selector, adapt the F-Pace's steering, transmission, throttle and (when specified) Adaptive Dynamics settings.
Auto Vehicle Hold provides added convenience and smoother operation than conventional Automatic Hill Hold. The new technology holds the brakes for an unlimited period of time when stationary on a gradient, gently releasing the brakes only when the driver depresses the accelerator to drive away.
Cutting-edge connected technologies
The new F-Pace features Jaguar's advanced Electronic Vehicle Architecture, dubbed EVA 2.0, which supports a range of new technologies to ensure the future-ready vehicle is always connected and always up to date.
View, and ClearSight Plan View.
Jaguar's commitment to creating strong and lightweight vehicles, continues with the new F-Pace. The aluminium-intensive architecture uses recycled aluminium from closed-loop manufacturing for greater sustainability and is an important contribution towards Jaguar's journey to Destination Zero, a world of zero emissions, zero accidents and zero congestion.
Customers can enhance their F-Pace with S, SE and HSE specification packs and chose the R-Dynamic specification. Also optional on all models is the Black Exterior Pack.
UK Pricing & Emissions
Diesel
Powertrain
Derivative
OTR
CO2 g/km
2.0D i4 163ps AWD Auto
D165 AWD Auto Core
£40,860
165
D165 AWD Auto S
£41,865
165
D165 AWD Auto SE
£45,025
169
D165 AWD Auto R-Dynamic S
£42,960
166
D165 AWD Auto R-Dynamic SE
£46,450
171
2.0D i4 204ps AWD Auto
D200 AWD Auto S
£43,915
165
D200 AWD Auto SE
£47,075
169
D200 AWD Auto HSE
£50,740
170
D200 AWD Auto R-Dynamic S
£45,010
166
D200 AWD Auto R-Dynamic SE
£48,500
171
D200 AWD Auto R-Dynamic HSE
£53,055
169
3.0D i6 300ps AWD Auto
D300 AWD Auto S
£50,750
195
D300 AWD Auto SE
£53,910
197
D300 AWD Auto HSE
£57,110
202
D300 AWD Auto R-Dynamic S
£51,845
197
D300 AWD Auto R-Dynamic SE
£55,005
201
D300 AWD Auto R-Dynamic HSE
£59,425
198
Petrol
Powertrain
Derivative
OTR
CO2 g/km
EV Range
(miles)
2.0P i4 250ps AWD Auto
P250 AWD Auto S
£47,545
213
–
P250 AWD Auto SE
£50,705
219
–
P250 AWD Auto HSE
£54,370
220
–
P250 AWD Auto R-Dynamic S
£48,640
214
–
P250 AWD Auto R-Dynamic SE
£51,800
220
–
P250 AWD Auto R-Dynamic HSE
£56,685
218
–
3.0P i6 400ps AWD Auto
P400 AWD Auto S
£56,315
222
–
P400 AWD Auto SE
£59,475
224
–
P400 AWD Auto HSE
£63,220
230
–
P400 AWD Auto R-Dynamic S
£57,410
225
–
P400 AWD Auto R-Dynamic SE
£61,115
229
–
P400 AWD Auto R-Dynamic HSE
£64,990
225
–
2.0P i4 PHEV 404ps AWD Auto
P400e AWD Auto S
£56,060
49
33
P400e AWD Auto SE
£58,975
51
32
P400e AWD Auto HSE
£62,175
54
30
P400e AWD Auto R-Dynamic S
£57,155
50
33
P400e AWD Auto R-Dynamic SE
£60,070
54
30
P400e AWD Auto R-Dynamic HSE
£64,490
52
32
Source: Jaguar UK