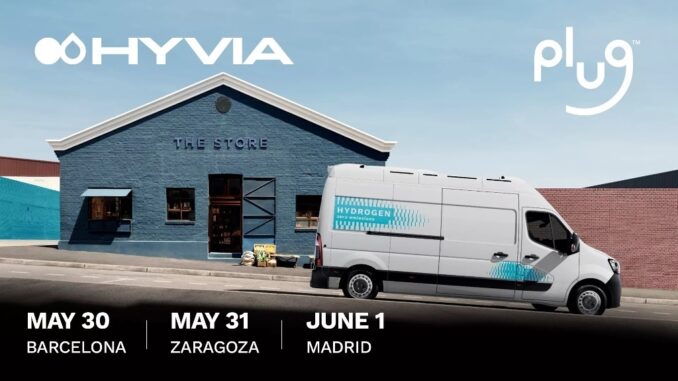 The companies Hyvia (hydrogen mobility solutions) and Plug (green hydrogen ecosystem) organize events in Spain to test drive Renault Master Van H2-Tech.
In Barcelona on May 30, from 10 am to 1 pm, at Mercabarna
In Zaragoza on May 31, from 10 am to 1 pm, at Carreras Grupo Logístico Plaza
In Madrid on June 1, from 10 am to 1 pm, at Mercamadrid
The Renault Master Van H2-Tech is the hydrogen van for professionals, zero-emission, 5 mn refueling time and more than 400 km range, powered by a 30 kW fuel cell by Plug technology, worldwide leader of hydrogen solutions.
Spain is a strategic country for both companies as the country is very committed to energy transition.
After our test drives in the Netherlands beginning in May, Hyvia continues to move forward in Europe and is proud to test drive again its hydrogen van Renault Master Van H2-Tech in Spain. With our partner Plug, we are accelerating to deploy hydrogen mobility on the roads. Stronger together! – said Julien Etienne, Hyvia Chief Commercial Officer.

Less than two years ago Renault Group and Plug joined forces in the Hyvia Joint Venture to create the leader in fuel cell light commercial duty vehicles in Europe. We combined Renault's automotive leadership with Plug's hydrogen technology. This week we present in Spain the results of this partnership – the Renault Master Van H2-Tech. Spain is a strategic country for Plug with a great potential for hydrogen. This is why we have chosen Barcelona, Madrid and Zaragoza to present the van to sustainably conscious customers – declared José Luis Crespo, Plug General Manager of Applications & Global Key Accounts.
Hyvia, a joint venture between Renault Group and Plug Power Inc., a leading provider of turnkey hydrogen solutions for the global green hydrogen economy, present in Spain, the Renault Master Van H2-Tech, a green hydrogen-powered van designed to accelerate the decarbonization of mobility on the roads.
This innovative solution marks a significant step towards sustainable transportation and reinforces both companies' commitment to energy transition in the country.
Hyvia hydrogen-powered van: Renault Master Van H2-Tech
Renault Master Van H2-Tech is a hydrogen-powered large van, with a loading volume of 12m3, adapted to the transport of goods and packages, that meets the needs of professionals for their intensive usages.
With an optimal refueling time of only 5 minutes and an autonomy of 400km, it allows companies and communities to maintain the competitiveness of their activity by emitting zero emissions.
The height of 1m80 in the cargo area, allows to stand inside and to ease organization and delivery of goods and packages.
Renault Master Van H2-Tech is made in France: vehicle production at Batilly plant, Plug fuel cell assembly and testing in Flins at Hyvia plant, and fuel cell integration at Gretz-Armainvilliers near Paris.
Plug 30 kW fuel cell
The van is equipped with Plug's 30 kW fuel cell, a 33 kWh battery and tanks containing 6,4 kg of hydrogen (4 tanks of 1,6 kg). Plug's 30 kW fuel cell engines, named ProGen, are flexible power building blocks designed for independent companies to use in heavy duty motive applications, and provide robust and cost-effective solutions with industry-leading performance, reliability and time-to-market for OEMs looking to adopt sustainable fuel cell power.
ProGen fuel cell engines provide solutions for all components of the logistics chain, from manufacturing and warehousing to middle- and last-mile delivery – where asset utilization is critical. Plug provides zero-emissions solutions for warehouse equipment manufacturers producing products like AGVs, small robotics, and aerospace UAVs in the light-duty category, delivery vans or light/medium duty cargo trucks used for on-road middle-mile delivery in the medium-duty category, and on-road trucking fleets for high utilization last-mile delivery or long-haul trucking in the heavy-duty category.
Plug's fuel cell system's reliability is backed up by experience operating more than 60,000 fuel cells in mobility applications with global customers including Amazon, Walmart, Asda, Carrefour, BMW and Home Depot.
Source: Hyvia