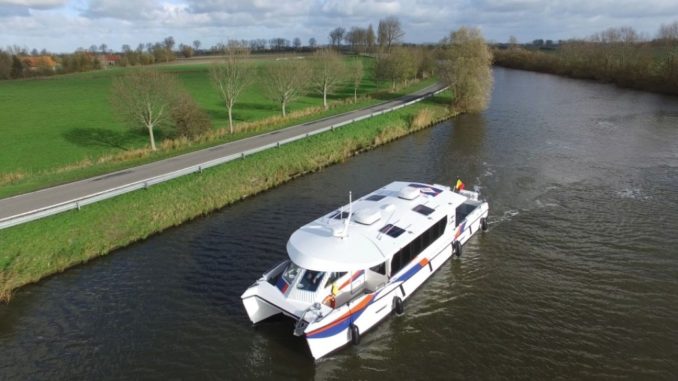 Hydroville is the first passenger shuttle that received a Certificate of Class from Lloyd's Register approval to burn diesel and hydrogen in its 2 combustion engines.
Certification has been delivered last November 16th to CMB Technologies in Antwerp and then has ben organized an official christening and naming Ceremony before that Hydroville will shuttle transport people from Kruibeke to Antwerp during rush hour to avoid the notorious traffic jams around Antwerp.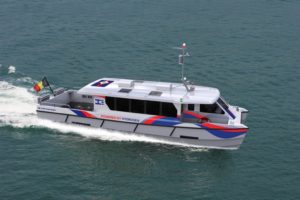 It will also function as a demonstration and research platform for hydrogen and will travel to events in Europe.
Hydroville is the first certified passenger shuttle that uses hydrogen to power a diesel engine.
Occasionally, the vessel will also be used for meetings/dinners on board or to organize a trip in the Port of Antwerp. It will also function as a demonstration platform for hydrogen and will travel to events in Europe. In addition, during the summer holidays, the vessel can be used to organize trips to the offshore wind turbine parks on the Belgian coast from Oostende/Zeebrugge.
The vessel will mainly be deployed from Kruibeke to De Gerlachekaai during in mornings and evenings to bring commuters to and from their workplace in the Belgica Building.
Technical data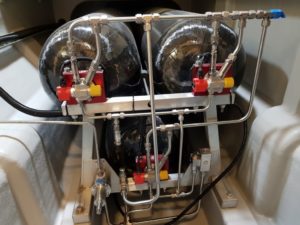 Length: 14m
Beam: 4,2m
Max Draft: 0.65m
Displacement at full load: 14ton
Lightweight: 12 ton
Propulsion: 2x hydrogen internal combustion engines (H2ICED) with a total shaft power of 441kW
Fuel: 12 hydrogen tanks (205 liter @ 200bar) and 2 diesel fuel tanks (2×265 liter) as pilot/backup fuel
Max speed: 27kn
Cruise speed: 22kn
16 passengers + 2 crew members
CMB Technologies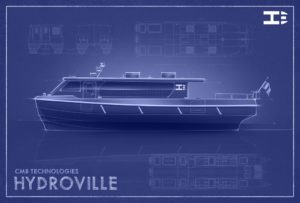 CMB Technologies aims to develop new technologies and implement existing ones . It will help the CMB fleet to become more sustainable and cost-efficient in the future. The following three technology groups have already been identified to significantly reduce fuel oil consumption & emissions:
Waste heat recuperation (WHR)
Onboard smart grid (produce it wisely, use it when necessary)
Big data collection (measure and anticipate)
In June 2016, a project was initiated which focused on designing a small, fast vessel that operates on hydrogen and can bring employees to the head office. Hydroville is the outcome of this project.
Building timeline (2017)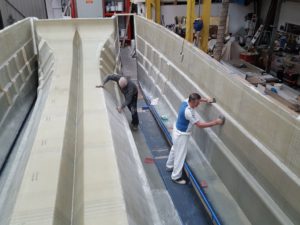 January: start of production
April: fitting of H2tanks
May: building of accommodation
June: lab testing of the engines with hydrogen
July: finish of structural mouldings
August: electrical outfitting + engine installation
September: hydrogen outfitting + test run engines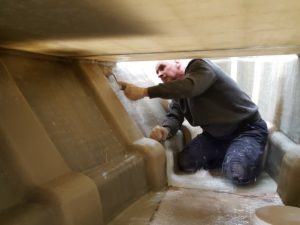 October: preparation of the sea trials
November: completion of the sea trials and transit to Antwerp
Accomodation
The shuttle is equipped with 16 business seats that can be mounted in 3 different configurations. In addition to the commuting setup, there is also a meeting setup where all seats are placed around a large table.
In the cinema setup all seats are directed to the information screen on which movies or a presentation can be played.
For the longer trips there is also a small kitchen and toilet.
To enhance the comfort, additional soundproofing is provided and 2 air conditioning units are provided.
There is also free WiFi on board and there are built-in USB chargers.