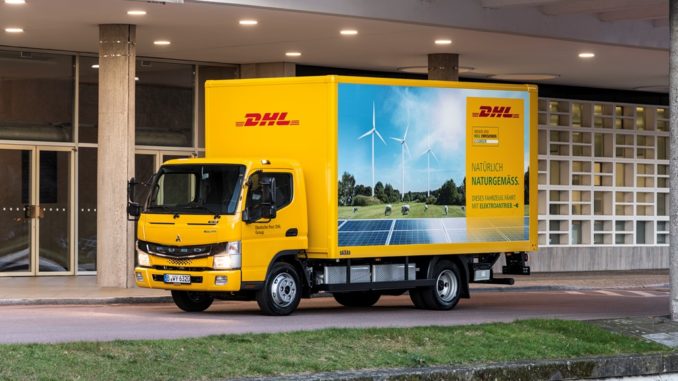 There are four logistics companies operating globally to first received the new Fuso eCanter electric truck in Europe: DHL, DB Schenker, Rhenus and Dachser.
With the Fuso eCanter we deliver the first all-electric truck series to our customers in Europe – over 90,000 kilometers of testing in daily operating conditions ensure that we deliver a reliable and economical vehicle to our customers – explained Marc Llistosella, Daimler manager Trucks Asia.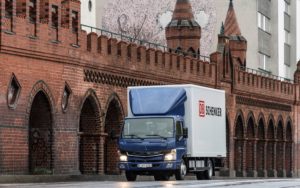 The customer's decision for eCanter Fuso was influenced by factors such as noise and emissions reductions, fleet sustainability and even economic reasons. Drivers of Fuso eCanter will be trained to drive the vehicle.
The vehicles were delivered through the intervention of the Daimler expert for chartering and leasing commercial vehicles CharterWay, which has stipulated a 24-month long-term rental agreement with the clients.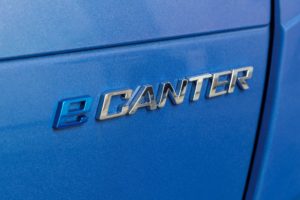 Deutsche Post DHL will use its six vehicles in two important commercial divisions: two vehicles will carry out delivery routes to the city of private and commercial customers of the DHL Freight Berlin branch, for heavy single loads, such as domestic appliances or large domestic appliances. DHL Paket will use four vehicles to deliver goods to businesses and corporate customers. For this reason, electric trucks will be completely integrated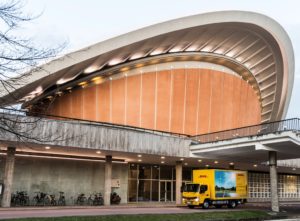 into existing business processes and will replace vehicles with conventional transmissions used up to this moment.
The new vehicles will give DB Schenker the opportunity to test a standard electric vehicle for internal city logistics under real-world conditions. Among other tasks, one of the three trucks will deliver and collect general cargo in the center of Berlin.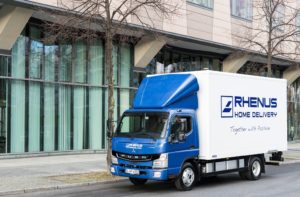 Rhenus Group, a global provider of logisitcs, will use the three Fuso eCanter in its home delivery unit. From the central warehouse in Hoppegarten, all-electric trucks will deliver furniture, consumer electronics, home appliances and heavy sports equipment in central Berlin.
Two more Fuso eCanter will be in service in the Dachser transport company. Their work will be the core business of general freight transport in the last mile, ie pallets with industrial goods or at micro-hubs or goods that are delivered directly to the customer, as well as the collection of goods and delivery to Dachser branches.
In these areas, the Fuso eCanter will be recharged overnight using a high voltage charging station.
The technical characteristics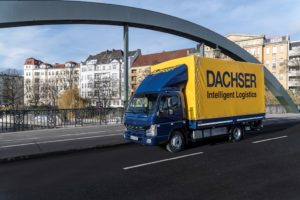 Depending on the layout and type of work to be done, Fuso eCanter has a load capacity of up to 4.5 tonnes.
The electric truck is powered by six lithium ion high-voltage batteries, each of 420 Volt and 13.8 kWh. The permanent magnet electric motor delivers 129 kW (180 hp) via a single gear drive in the rear axle. The 285 Nm torque allows the 7.49 ton truck to accelerate almost like a car.
The maximum speed of eCanter – as with any other vehicle in its weight class – is limited to 80 kilometers per hour. The batteries, with a total weight of about 600 kg, allow an autonomy of over 100 kilometers and in many cases exceed the daily distance to be covered in the transport of goods distribution.
Compared to a traditional diesel truck, the Fuso eCanter saves up to 1,000 euros for 10,000 kilometers on operating costs.