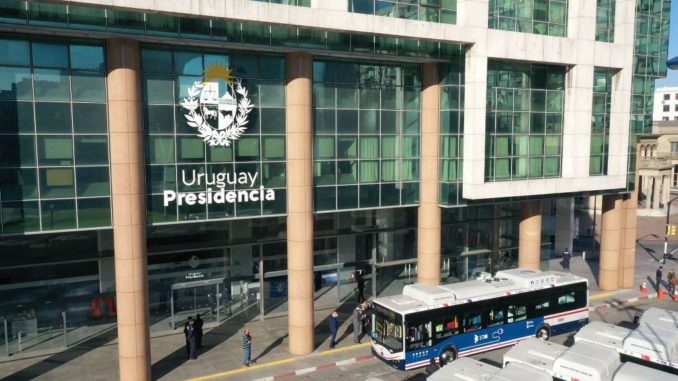 BYD and the local distributor for Uruguay Abriley S.A. delivered a fleet of 20 BYD 12-meter electric buses to CUTCSA in Montevideo, Uruguay.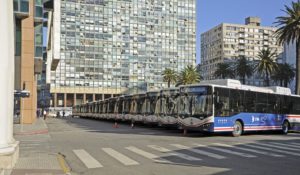 Dr. Luis Lacalle Pou, the President of Uruguay witnessed the ribbon-cutting ceremony at the
Executive Tower in Montevideo's Plaza Independencia.
The delivery of the 20 buses is the result of years of work and evaluations done with CUTCSA, local and national authorities. BYD's bus imported in 2013 by Abriley served as the foundation for the replacement of units executed under the MOVES Program (Urban Sustainable and Efficient Mobility National Program), which seeks to gradually replace traditional diesel-powered buses with electric ones.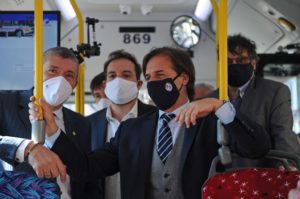 The ribbon-cutting ceremony has the participation of Dr. Luis Lacalle Pou, the President of Uruguay; Mr. Luis Alberto Heber, Minister of Transport and Public Works; Eng. Omar Paganini, Minister of Industry, Energy and Mining; Mr. Christian Di Candia, Mayor of Montevideo City; Mr. Juan Antonio Salgado, President of CUTCSA, and other national authorities, city officials, CUTCSA board members, as well as officials from BYD and Abriley.
Mr. Attie, President of Abriley and distributor of BYD in Uruguay, who was unable to attend the event due to the restrictions caused by COVID-19, expressed to the National Authorities of Uruguay his immense pride in such an important milestone for the country's development and its transport, and noted that…
…this project began when Abriley imported the first 100% electric bus ever as an independent distributor to Latin America, and today Uruguay becomes one of the leaders in Latin America in electrifying its transport.
Source: BYD