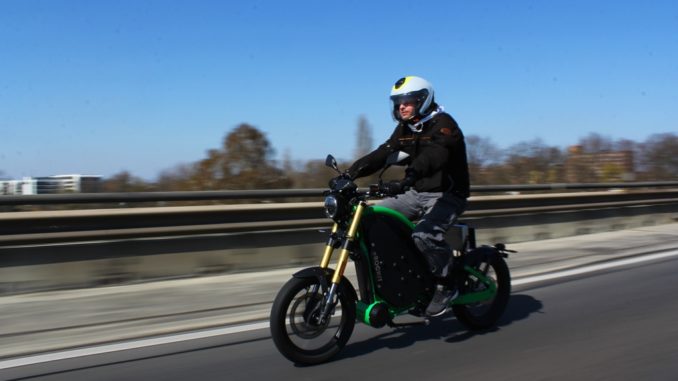 If you decide to go on German Autobahn (Highway) with an eROCKIT, probably some drivers will think that it's a piece from a science fiction movie.
Of course isn't normal to see something like a bicycle runs there but with a speed of a sports car.
The eROCKIT is an extraordinary electric motorcycle.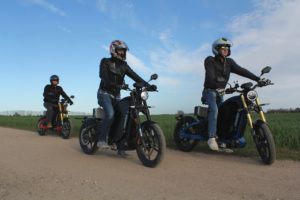 You don't control the speed with a throttle, but with pedals! It is intuitive and easy to use like a bicycle, but is as fast as a motorcycle.
With a top speed of about 90 km/h (56 mph), the eROCKIT is even well suited for driving on the Autobahn. It is powered by an air-cooled permanent synchronous motor with a peak output of 16 kW. The driving experience is absolutely unique, almost indescribable and magical.
Manufactured near Germany's capital Berlin the eROCKIT is made from high-quality components. The light motorcycle, which belongs to the category of 125cc motorcycles, impresses with its exceptional and award-winning design. The powerfully curved aluminum frame with swing arm and damping, various carbon applications, an air-sprung, customizable fork and a high-quality 6.6 kWh battery from the Swiss manufacturer ECOVOLTA make the eROCKIT a quality product "Made in Germany".
The eROCKIT has many advantages for customers: You get excited about an ecological and sustainable driving experience, with a 120 km range ideal for all commuters. The eROCKIT is quiet, stress-free and healthy, because on this motorcycle you move with constant light pedaling with little resistance, without fatigue. Overtaking cars in city traffic is very easy, maneuvering, great agility and very good road holding also make this motorcycle special. As with many other electric vehicles, the eROCKIT is inexpensive to maintain and use less electricity.
By the way: the fast eROCKIT driver on the German Autobahn is Sebastian "Satu" Kopke. The extreme stunt athlete from Brandenburg (Germany) has already set several world records in his career and is used to fast motorcycles as a passionate motorcyclist, founder of the legendary German stunt crew "Fast Division" and test driver for eROCKIT.
Sebastian Kopke explains:
I have driven a decent number of bikes from Kawasaki to Suzuki, Yamaha and Honda. All models from 600cc to 1100cc. Everything was already there. But I have never experienced such a mixture of physical activity similar to cycling and this incredibly good acceleration. It's doubling the fun!
See the eROCKIT on the Autobahn:
Technical specifications
Engine
Type: forced air cooled, highly efficient, brushless permanent magnet synchronous motor
Transmission: clutch-free HTD Belt Drive
Peak power: 16 kW / 22 HP
Continuous power: 5 kW / 7 HP
Battery
Type: 52 Volt Lithium Ion Battery
Capacity: 6,6 kWh
Charging
Charger: external Plug-In-Charger, 230VAC Input voltage with CEE7/7 Plug
Charging time: 20% -> 80% SOC: 3 hours, 0% -> 100% SOC: 5 hours
Chassis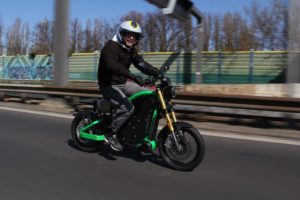 Frame: aluminium frame
Wheelbase: 1450 mm
Steering head angle: 22,9°
Trail: 89,6 mm
Front suspension: adjustable 37mm Upside-Down-Fork
Rear suspension: 203 mm shock absorber with adjustable preload
Front brake: 300 mm disc brake, 4 piston radial mount caliper
Rear brake: 220 mm disc brake, 2 piston caliper
Front wheel: 1.85×17″aluminum 5-spoke wheel with 80/100-17 Heidenau K80 tyre
Rear wheel: 2.50×17″aluminum 5-spoke wheel with 100/90-17 Heidenau K80 tyre
Weight: 120 kg (265 lb)
Driving data
Top speed: 90 km/h (56 mph)
Range: 120 km (75 mi), depending on payload, driving style, road surface, incline and climate
Source: eROCKIT