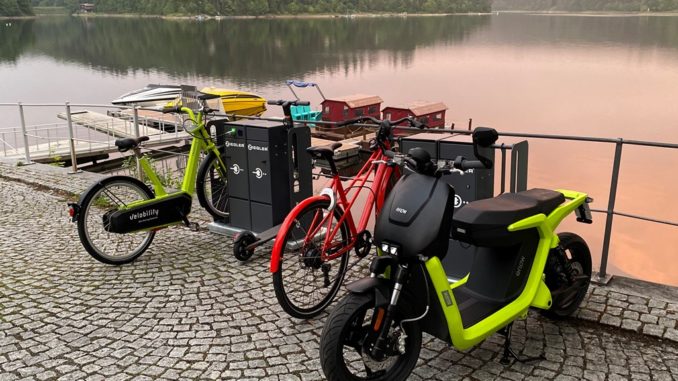 The needs for public parking and charging points is growing rapidly with the increase of users of micromobility and EnergyBus makes possible the single station for all types of LEVs.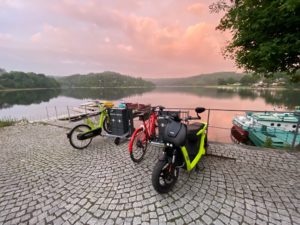 This needs are increased also by the new mobility providers with their fleets of e-scooters and sharing electric bicycles,
Where should the e-scooters park? Where do I charge my pedelec on a multi-day tour? How safe is charging batteries with chargers brought in restaurants and hotel rooms?
In order to give all users access to a public charging infrastructure, an open standard is required – charging must be possible for all light electric vehicles and have standardized interfaces.
The first charging stations at the marina in Saalburg are equipped with the EnergyBus system.
EnergyBus is an open standard that was specially developed for the use of light electric mobility, comparable to the USB standard.
The standard consists of a standardized charging plug and intelligent system communication running in the background.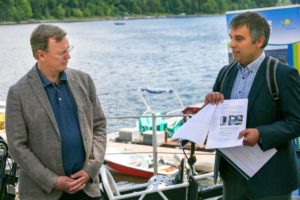 Charging stations equipped with EnergyBus technology enable all micromobility vehicles – pedelecs, electric bicycles, e-scooters and e-standing scooters – to be charged.
The use of the charging station is extremely user-friendly.
The ChargeLockCable installed on the vehicle is connected to the charging point, so charging can begin.
At the same time, the vehicle is mechanically and electronically protected against theft by the ChargeLockCable.
A quick comparison takes place in the run-up to the loading process. Current, voltage and charging power are automatically adapted to the requirements of the respective vehicle.
This ensures the highest level of safety when charging.
Safety first
Safety is the top priority of the EnergyBus charging system – both in terms of charging technology and vehicle security.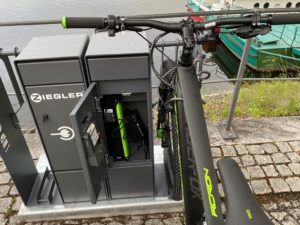 The new Thuringian charging stations, Veloconnectors from E. ZIEGLER Metallbearbeitung AG, enable charging of the electric vehicle with its own charger thanks to an integrated locker with a safety socket.
In this case, either only the charger can be secured in the locker to charge the battery directly in the vehicle or the battery is removed from the vehicle and enclosed and charged together with the charger in the locker.
With the innovative project "Öffentliches E-Bike-Ladenetz" with the EnergyBus system, the Rennsteig-Saaleland offers a solution that makes parking and charging in public spaces easy and safe.
By 2021, a total of 105 charging stations at 21 locations around the Thuringian Lakes are to be built, all EnergyBus ready.
Source: ExtraEnergy