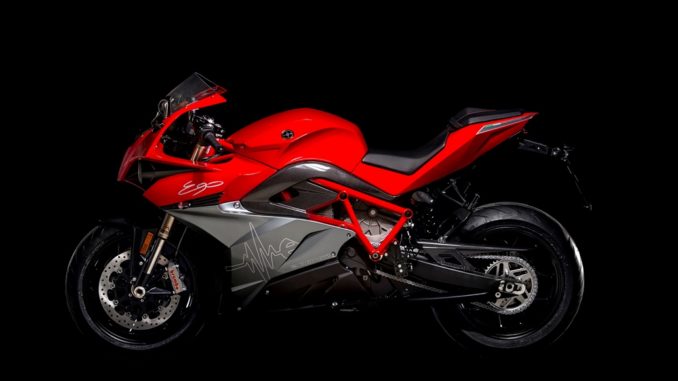 Energica, il costruttore modenese di motociclette elettriche di elevate prestazioni, ha esposto a Intermot 2018 di Colonia le novità MY2019 e la nuova livrea di Ego Sport Black.
Il 2018 segna il debutto di Energica nel Salone di Colonia denominato Intermot che si svolge ogni due anni, in quello che rappresenta un paese chiave per lo sviluppo commerciale considerando che ci sono già 5 punti vendita attivi nell'area tedesca.
Nell'ultimo anno la Società ha vissuto un decisivo ramp up grazie all'introduzione del terzo modello Eva EsseEsse9 e al coinvolgimento nel progetto MotoE:
Essere scelti come Costruttore Unico per la prossima FIM Enel MotoE World Cup è per noi la consacrazione del nostro Prodotto come punto di riferimento indiscusso a livello mondiale per il settore delle #moto elettriche ad alta prestazione, ed è la conferma dell'ottimo lavoro fatto fino ad oggi – ha affermato Livia Cevolini, CEO Energica Motor Company.

Energica ha in sé una dualità unica: da un lato la freschezza, l'entusiasmo e la passione di un team giovane dall'altra un imprinting manageriale consolidato, quello del Gruppo CRP, dal 1970 un pioniere nel mondo del motorsport internazionale e centro d'eccellenza per le tecnologie all'avanguardia.
Ad Intermot 2018 Energica si è presentata con 5 moto della gamma insieme alla demo bike Energica Ego Corsa, la moto elettrica da cui verrà derivata la Ego Corsa della prossima FIM Enel MotoE World Cup, utilizzata quest'anno per la serie di demolap dimostrativi all'interno del calendario MotoGP.
Energica Ego Sport Black: cattiva senza eguali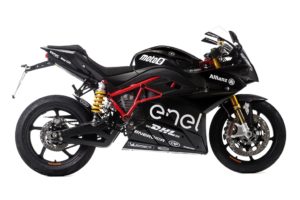 La sportiva Ego, eletta nel 2017 "Electric Bike of the Year", si presenta con una inedita grafica e colorazione.
Con questa nuova veste la casa modenese ha deciso di rendere omaggio alla grande attività di sviluppo che il team tecnico sta svolgendo in vista della prossima FIM Enel MotoE World Cup, di cui Energica è il Costruttore Unico.
L'esperienza delle corse, grazie ai numerosi test e alle migliaia di km percorsi in pista insieme al tester Alessandro Brannetti, costituisce un banco prova unico per lo sviluppo non solo delle moto da corsa ma anche per le moto stradali Energica in commercio.
Energica è l'unica azienda di moto elettriche al mondo ad avere questo vantaggio competitivo.
La nuova colorazione è ispirata al prototipo test della Ego Corsa 2019 ed omaggia i partner che hanno affiancato Energica supportando il team con grande entusiasmo.
Il nuovo kit Sport Black include la Sella Tech con cuciture rosse, Ergal kit e contrappesi.
Sarà disponibile a partire dal 2019 insieme alle colorazioni Lunar White/Titan Grey e Red Passion/Titan Grey.
Energica MY2019: elettronica e nuove features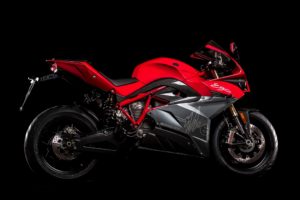 Il dipartimento Elettronica è tra i fiori all'occhiello dell'Innovazione Energica:
In questi anni abbiamo saputo ereditare l'esperienza derivata dal Gruppo CRP applicandola ad un nuovo ambito. Non ci siamo mai fermati allo status quo che la tecnologia attuale offriva, abbiamo continuato a fare ricerche, creando un nuovo know how, ed innovando abbiamo scritto ex novo una nuova grammatica – Afferma Giampiero Testoni CTO Energica.
I MY2019 avranno nuove importanti features, eccole in rassegna: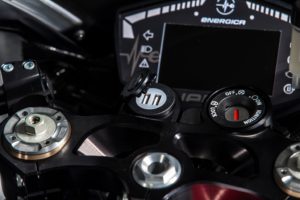 Novità Elettronica (di serie su tutti i MY2019):
Traction control. Un sofisticato sistema di controllo di trazione configurabile su 6 livelli di intervento affiancherà il già presente controllo antipattinamento/antisaltellamento del freno motore (eABS) e l'ABS Bosch per un'esperienza di guida ancora più esaltante e sicura.
Cruise Control: ogni #moto #energica sarà dotata di un sofisticato sistema di cruise control che utilizza il freno elettrico per mantenere la velocità ed incrementare l'energia in frenata.
Nuovo comando gas elettronico: il nuovo comando incrementa i già alti standard di sicurezza presenti sulle moto Energica ed aumenta la linearità e la precisione del controllo di coppia. Il nuovo sistema sarà in grado di rilevare rotazioni della manopola inferiori a 0.01° (un centesimo di grado).
Manopole riscaldate. Le nuove manopole riscaldate di serie sui MY2019 sono attivabili tramite un comando dedicato sul blocchetto elettrico a destra e impostabili su 4 livelli di potenza attraverso il dashboard (OFF + 3).
Nuova luce "Cuore Pulsante". I MY2019 Energica manterranno il "Cuore Pulsante" luminoso che da sempre contraddistingue le #moto elettriche modenesi, con una feature in più: il nuovo "Cuore Pulsante" affianca alla funzione estetica anche la funzione di indicatore di progresso durante la carica.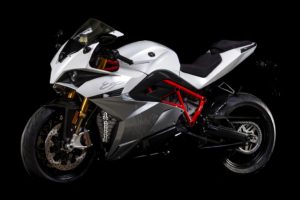 Novità software (disponibile da gennaio anche per moto già prodotte):
Interruzione di carica ad un livello prefissato: sarà possibile configurare il veicolo per interrompere autonomamente la carica ad un determinato livello. L'utente potrà configurare questa funzione attraverso il dashboard.
Caricabatteria: migliorie sulla gestione del raffreddamento del caricabatterie on-board. Sarà possibile attivare una modalitàdi carica "silenziosa".
Più carica/meno tempo: il nuovo software aumenterà la corrente di carica in fast charge riducendo il tempo di ricarica del 15%.
Insieme alle features elettroniche elencate, tutti i MY2019 Energica saranno in vendita con fast charge, dashboard TFT color display 4.3'', 4 mappature (4 Riding Modes: Urban, Eco, Rain, Sport – 4 Regenerative Maps: Low, Medium, High, Off) e Park Assistant di serie.
La Porta USB sarà di serie solo su Eva, Eva 107 ed Eva EsseEsse9 (opzionabile su #energica Ego).
Rete vendita
Nel corso del 2018, Energica ha potuto radicare la propria presenza su importanti mercati europei ed extra-europei.
Attualmente la rete distributiva comprende tutti i maggiori paesi europee insieme a California, Texas, North Carolina e Giordania. Energica ha inoltre siglato accordi d'importazione in due aree geografiche internazionali: Sud Africa e Paesi del Golfo.