The Huis Ten Bosch Theme Park in Nagasaki, Japan, received the first batch of BYD eBuses that will be use into the Japanese park.
BYD has once again established a successful partnership with a large Japanese park in the field of green transport solutions, after BYD's recent delivery of a J6 electric bus to Ueno Zoo in Tokyo.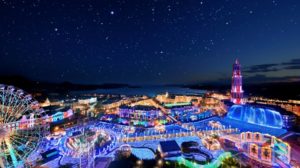 Located in Omura Bay, Sasebo City, Nagasaki Prefecture, Huis Ten Bosch covers a total area of about 152 hectares, about twice the size of Tokyo Disneyland, making it Japan's largest theme park. The name Huis Ten Bosch translates into English as "House at the Woods/bush". It is named after Huis ten Bosch in The Hague, one of the three official residences of the Dutch Royal Family. There are countless lush green plants in the garden, with more than 300,000 Dutch-style tulips, and a 6KM long canal, which features flawless 17th-century Dutch styling.
Huis Ten Bosch is not only a vintage European-style theme park but also a green attraction with a vision set firmly on the future. With those 17th-century Dutch antique buildings, the park also uses the latest environmental technology to build an eco-friendly environment.

In 2020, the Japanese government proposed a "carbon neutral" goal of zero carbon emissions by 2050. To achieve its environmental protection goals, Huis Ten Bosch introduced pure electric buses, despite the disruptions of the COVID-19 pandemic. In addition to the zero-emission and pollution-free pure electric buses used for land transport, the park has also designed a complete wastewater treatment facility to prevent any wastewater from flowing into the sea to protect the surrounding ocean from being polluted.
The BYD K9 bus, which started operation in February 2020, is mainly used as a dedicated shuttle bus for hotel guests in the park; while the J6 is mainly used as a tour bus in the park and officially began operating on December 4th. With advantages like zero emissions, stable endurance, high safety, and an extremely quiet ride experience, these electric buses provide visitors in the park with a more comfortable and pleasant visit.
From 2015 to 2020, BYD buses have successively entered Kyoto, Okinawa, Iwate, Ozegahara, Yamanashi, Nagasaki, and Ueno Zoo in Tokyo.
Source: BYD