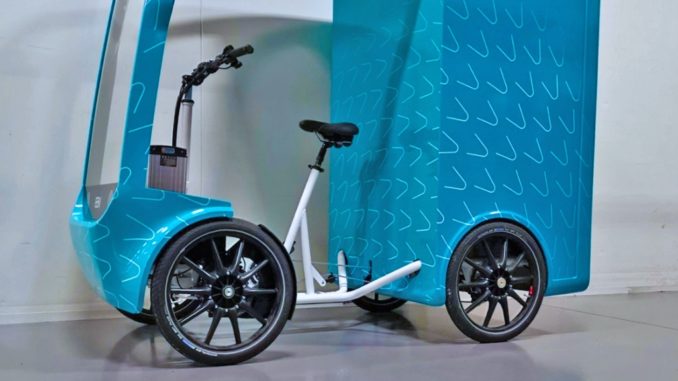 Electric Assisted Vehicles Limited (EAV), worked with Solomon Commercials, launched a world's first with a fully temperature-controlled eCargo bike.
The EAVcool Cargo was launched to exceptional interest at the Restaurant and Takeaway Show at London's Excel Arena last week.
Primarily designed for the urban transport and delivery of chilled or frozen goods within a continuous cold chain, the EAVcool is a purpose-built, zero-emissions, environmentally – focused quadracycle which measures 2m long by 1m wide, weighs 120kg and can carry a 120kg payload. Using an e-nertia boost button, a 250 watt motor helps the rider accelerate up to an initial 6kph (3.7 mph) and then on to a maximum pedal-assisted 25 kph (15 mph). The EAVcool can cover a range of up to 60 miles in a day and then be recharged using a normal 13amp, 240v plug socket. Batteries can also be swapped to keep the EAVcool in constant use but are fully re-charged in under 6 hours.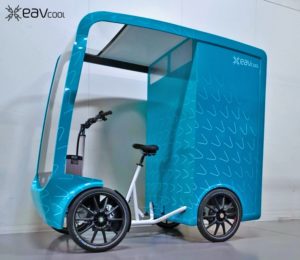 Developed in conjunction with Lancashire-based Solomon Commercials, the rear compartments are designed from high-tech insulation and provide two completely independent zones for frozen (down to -18) and chilled product. Temperature control is maintained onboard by a highly efficient 12v cooling system from Dometic.
The EAVcool is an entirely new type of vehicle and is designed specifically to meet the current challenges for delivery firms in the urban environment. The vehicle itself has the potential to be more efficient than traditional vans in certain locations transporting items faster. It is highly manoeuvrable and can often get closer to delivery addresses than most vans and even motorcycles.
Nigel Gordon-Stewart, Executive Chairman of EAV said:
Our programme with Solomon Commercials is a further extension of the EAV concept and now allows cool cargo such as perishable foods, nutrient products, flowers, plants, biopharmaceutical products, chemicals and even artwork to be delivered without needing vans or cars and therefore emissions free. It is clear evidence of the real potential of vehicles like the EAVcool to operate efficiently and environmentally in towns and cities worldwide. EAV's contribution is increased efficiency and a very significant reduction in both pollution and congestion which, we truly believe, will help to change the world we live in.
Adam Barmby, technical director at EAV commented:
It has been fantastic to work alongside Solomon Commercials and see this first EAVcool develop. EAV is classed as a cargo e-bike, but really, we started from scratch and reimagined an entirely new type of vehicle to operate within the parameters of today's urban delivery market. It is a modular design, so we can extend or shorten the chassis and change the cargo configuration to fit the brief. In addition to the design flexibility, there is also a whole new set of efficiencies that we are tapping into here. Realistically, the EAVcool can move as fast or faster than a traditional van through many cities because of the different routing it can take.
Source: EAV