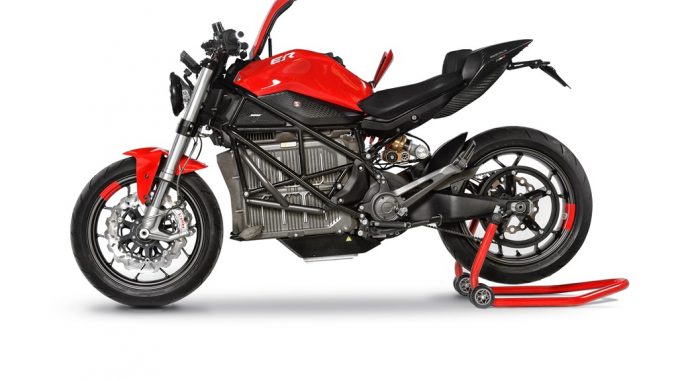 The electric motorcycle E-Racer Bestial-e built based on Zero SR/F motorcycle has a full electric classic custom bodywork produced completely in Italy.
The "Ducati Monster style" of full electric classic E-Racer Bestial-e has been presented together with the new world wide distribution program in partnership with E-Motion Italy, official Zero Motorcycles Dealer and importer of Tuscany – Italy.
E-Racer Bestial-e, the hypersport Zero SR/F Cafe Racer special
Born on the basis of the new Zero Motorcycles SR/F, the Edge has been customized and evolved in three different parts: the front headlight, the side tank area and the back tail. The bodywork is reversible and it can be mounted without making changes to the original model in terms of structure. In fact, the new equipment can be fitted on the base model preserving its homologation. The design of the Bestial-e is brought to the essential. By using carbon fyber for the tank and back tail new components, the result is a lighter bike than the original version.
On an aesthetic level, the livery emphasizes a mix of classic and sport-modern: the tank, partially transfor- med, is more compact and muscular, the front headlight, a full-led unit, is a classic touch.
The full carbon back tail, the handmade saddle with exclusive hand-stitched texture, the racing wave brakes with full Brembo Stylema and racing pumps units and the rear AirTender regressive suspension system com- plete the list of primary changes.
The front full-Led unit is composed of a single headlight with three different functions: position light, low beam and high beam. The "sight" of the bike is also characterized by two LED day lights placed at the end of the hand bar.
The E-Racer Audio-Forceback system – E-RAF
For the E-Racer team the design is not enough if it doesn't evolve the functions, so we asked ourselves: could we improve the safety and driving performance of such a powerful electric motorcycle? Increasing performance requires more security that's why we have worked in this field combining the resources of our partners. Sound engineers, audio system experts and programmers worked to develop a dedicated app and hardware to meet this need. The E-Racer Audio-Forceback – E-RAF – will be available for all customers.
Source: Zero Motorcycles