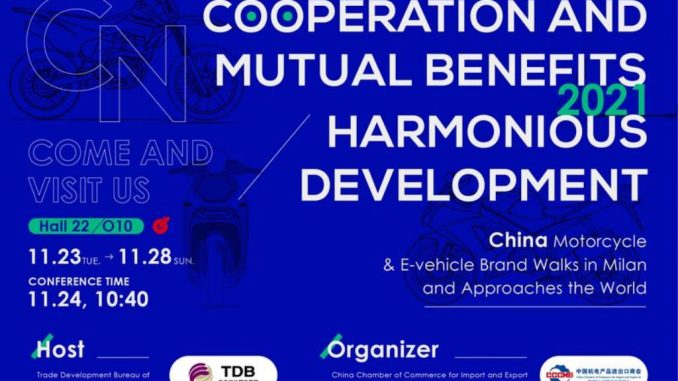 I principali produttori cinesi di moto e veicoli elettrici si presenteranno all'EICMA di Milano con il brand China Motorcycle & E-Vehicle.
Le aziende riunite in una collaborazione centralizzata illustreranno a EICMA la loro tecnologia all'avanguardia mirata alla mobilità elettrica, così come diverse soluzioni e prodotti innovativi dei brand che aderiscono al progetto.
L'evento è intitolato "I vantaggi della cooperazione per lo sviluppo reciproco – il brand China Motorcycle & E-Vehicle si presenta al mondo da Milano", attraverso il quale per la prima volta, il collettivo di aziende cinesi China Motor & E-Vehicle Corporation parlerà con una sola voce, presenterà i nuovi prodotti, le tecnologie e le soluzioni di ciascuna azienda.
Questa edizione di EICMA, il più grande evento mondiale delle due ruote, riunirà la maggior parte delle aziende moto mondiali e, dopo un anno di "sospensione",
Il ritorno in presenza di EICMA, il più grande salone mondiale delle due ruote, dopo un anno di stop causa pandemia è un momento ancora più importante.
La cooperativa cinese vede coinvolti importanti produttori di moto quali Ariic, CFMoto, Cyclone, Dayang, Dayun, QJMotor, Senke, Taomotor, Teyin, Voge, Znen e Zontes e noti produttori di veicoli elettrici, come Aima, Okai, Tailg, Tromox, Xinri e Yadea. Sono quasi 20 le aziende che aderiscono all'iniziativa.
Nell'ambito di questo progetto, sviluppato da China Trade Development Bureau of the Ministry of Commerce e dalla China Chamber of Commerce for Import and Export of Machinery and Electronic Products (CCCME), le aziende coinvolte presenteranno lo stato attuale dello sviluppo e i piani futuri dell'industria cinese delle due ruote, introducendo nel mondo anche alcuni dei più importanti marchi cinesi di motociclette e veicoli elettrici.
Durante la conferenza stampa che si terrà a EICMA, alcuni importanti marchi cinesi delle due ruote, tra cui CFMoto, Teyin, Yadea e Aima, presenteranno i loro nuovi prodotti di punta, a testimonianza delle innovative soluzioni per il trasporto su media e corta distanza che la Cina propone al mondo.
L'evento di presentazione si terrà presso lo stand di China Trade Development Bureau of the Ministry of Commerce (Pad. 22 – Stand O10) dove i visitatori della manifestazione potranno anche ammirare le novità più recenti.
Fonte: China Motorcycle & E-Vehicle