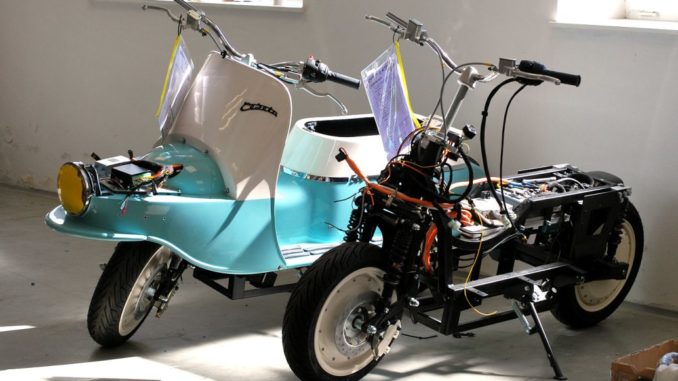 Inspired by the original space-age Čezeta design, but fitted with the most advanced electric scooter technologies, this unique high-end scooter excites your emotions.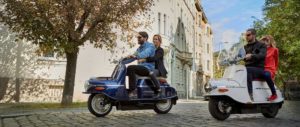 Over 2 metres lenght and with the world's most powerful hub motor, the 2 seater e-scooter is capable to pack a big battery that are officially tested by TUV to have a range of 120-150km. The powerful on board battery charger allow to add 42km per hour from any standard household socket.
The Čezeta's Battery Management System ensure all works safely and automatically and it's possible to use the bike as a powerbank for several devices.
The Range
A giant 6kWh Panasonic Lithium battery pack gives an optimum range for an electric scooter. The powerful 1.8kW universal charger (110V-240V) allows a quick top up anywhere there is a household socket. All operations are protected by Čezeta's computer systems for maximum convenience and safety.
120 km/h sports performance
The 11kW custom hub motor delivers the torque of a sports bike making the Čezeta 506 amongst the fastest scooters in the world. The unique 'sway' throttle, profile selector and outstanding braking systems ensure the ride perfectly blended into one seamless confidence-inspiring experience.
50 years, Built The Čezeta Way
Designed, manufactured and assembled in-house to the finest standards of workmanship and quality. Completed using high-quality European components from Sevcon, Rizoma and Beringer. Čezeta's legendary reputation for build quality means every 506 should last a lifetime.
Iconic design
The Čezeta's soft organically flowing contours originated with the aerodynamics of the 1950s as a testament to the 'space age' rocket aesthetics of the time. The Type 506 continues this obsessions with aerodynamics but with new composite technology its weight is reduced drastically to only 137kg.
Advanced Engineering
The 506's frame, forks, brakes and electronics have all been developed by Čezeta's engineers in-house. The goal is to make its operation as controllable and automated as possible.
Profile Selector
Designed and manufactured by Čezeta, the unique profile selector provides a choice of motor options to suit your mood, up to a sporty 11kW. There's even a reverse to make moving the Čezeta easy in all directions.
Sway Throttle
The Sway Throttle is another patented innovation by Čezeta, this is the best way ever to control a motorcycle. Roll it back to accelerate and roll it forward to brake – and recuperate energy back to the battery.
Tailored Craftsmanship
Every Čezeta is hand made to order at the factory in the Czech Republic using Čezeta's own manufacturing, together with the highest quality components from European manufacturers such as Rizoma, Beringer, Michelin, Smiths and Sevcon. Čezeta isn't a mass market producer and their goal is to craft always something unique, tailored just for customers.
Test rides // 50€ per half-day
Test rides are available around Prague's 'old town' and interesting can contact the company to an appointment.
To test the Čezeta 506 it's necessary to ride one person per bike, helmet and gloves are provided (or of course you can use your own). Sturdy shoes, jacket and trousers are recommended. Minimum age 18, driving licence class A, A1, A2 or B. We provide insurance with waiver. Full briefing given prior to departure in English or Czech.
After-Sales service
Čezeta provide the best service possible for customers and their Čezeta, through offering a 'Čezeta At Home' repair and maintenance service. This ensures a quick and seamless service where they send a Mobile Service Engineer to service and maintain your Čezeta quickly and conveniently from the comfort of your own residence at no extra charge. Our service time is typically 14 days.
Included in the price
2-YEARS / 40,000 KM
(whichever comes sooner) parts and labour.
1-year Europ Assistance breakdown assistance or recovery of scooter to a Čezeta Authorised Service Partner and for rider and passenger taxi up to 50 km plus train/bus onward journey home as required.
1-year 24/7 Personal Assistant (concierge assistance) for everything you might need arranging.
Extended warranty
Available as an option with a longer time period in lieu of the Standard Warranty for repairs only:
506/01
5-YEARS/80 000 KM
(whichever comes sooner) parts and labour.
506/02
5-YEARS/100 000 KM
(whichever comes sooner) parts and labour.
Easy Maintenance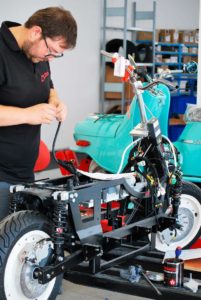 Unlike traditional petrol motorcycles, an electric one requires none of the oil changes, fuel filters, spark plugs or emission checks that are part of servicing – and even brakes are less worn through the Sway throttle. Instead, we recommend that you arrange an annual general inspection of your vehicle by a local mechanic to ensure the safety of your Čezeta. Please note that your warranty will not be affected if you choose not to arrange such inspections.
Recommended work is usually around an hour and concentrates on: tyre condition and alignment, brake check and brake fluid replacement, electrical system safety check, mechanical review of the frame and bearings, upgrades to your Čezeta's software and valet service.