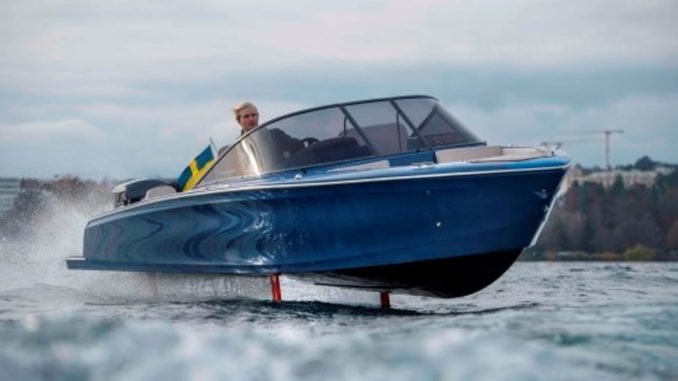 The foiling Candela Seven is the world's longest-range electric speedboat and it made its show debut at Boot Düsseldorf 2020.
With a range of 50 nautical miles in 22 knots, the 7,7 meter bowrider Candela Seven is the first electric boat to rival fossil fuel equivalents in terms of speed and endurance. This industry-first performance is achieved thanks to hydrofoils and an advanced control system.
The wing-shaped foils reduce energy consumption by 80 percent compared to fossil fuel planing boats and also cuts fuel costs by some 95 percent. In a cruising speed of 20 knots, the Seven consumes only 0,8 kW of energy. That is the equivalent of using 0,29 liter per gasoline per nautical mile.
The advanced foil technology and computerized foil control system has been developed by Candelas team of engineers since 2015 and has been tested in several prototypes. While serial production of the Seven has already started at the Lidingö factory outside Stockholm, the Düsseldorf Boot will be the show debut for the world's longest-range electric speedboat.
Source: Candela Boats