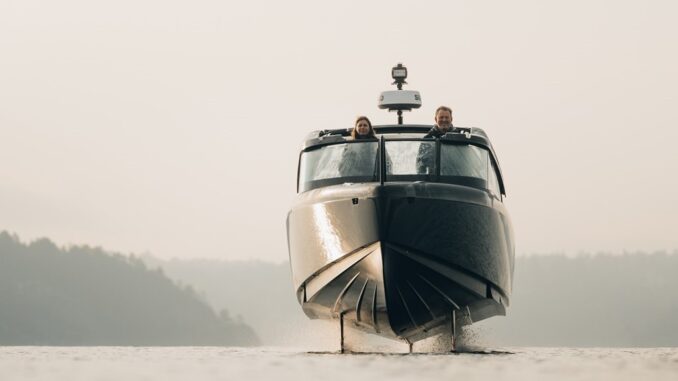 The revolutionary electric boat Candela C-8 has been named the European Powerboat of the Year 2023 at Boote Düsseldorf.
The European Powerboat Awards is also known as the "Oscars of the Boat Industry", and this award recognizes the C-8's outstanding performance, and innovation in the industry.
The Candela C-8 won the electric boat category, thanks to its cutting-edge hydrofoil technology, which allows the boat to fly on water, using only a fraction of the energy conventional boats need. With a range of 50+ nautical miles at 22 knots, the C-8 has two to three times the range of conventional electric boats and matches the performance of fossil fuel-powered speedboats. And that's not all – its active hydrofoil system ensures a smooth ride, while its on-board computer automatically adjusts for side winds and waves, providing a more comfortable boating experience.
The real game-changer lies in the C-8's energy efficiency. With 80% lower energy consumption than conventional vessels and an almost non-existent wake, Candela C-8 causes minimal disturbance to marine life. For its innovative technology, Candela C-8 has been widely recognized by international media such as Washington Post, Der Stern, and der Spiegel.
In a recently announced partnership, Candela will use electric premium car maker Polestar's batteries, which will allow the C-8 to achieve an even longer range, further pushing the boundaries of what is possible with electric boats.

We're committed to revolutionizing the boating industry by creating electric boats that are not only more sustainable and environmentally friendly, but also outperform traditional fossil fuel-powered boats, thus accelerating the transition to sustainable boating. Winning the European Powerboat of the Year 2023 award is an important recognition for our work – says Mikael Mahlberg, Candela's Head of Communications.
Source: Candela