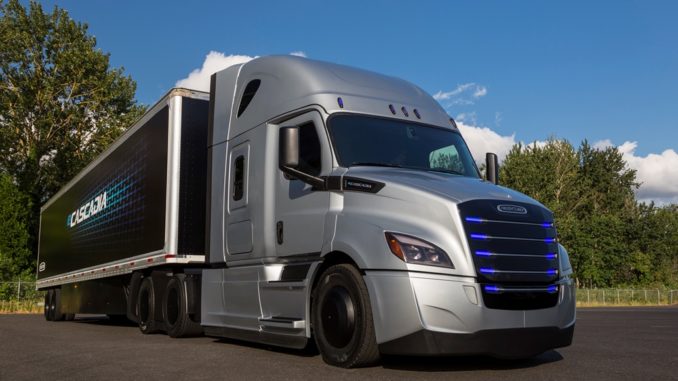 Penske Truck Leasing and NFI Industries starting to test the first fully electric Freightliner trucks from end of 2018 onwards.
Earlier in June this year, Daimler Trucks presented two new fully electric trucks from its US-subsidiary Freightliner. Now, Daimler officially announced the two first customers to operate the e-vehicles within their fleet: 30 Freightliner eCascadia and eM2 trucks will be handed over to the customers Penske Truck Leasing and NFI Industries in the US.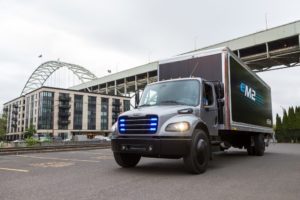 Daimler is the world's first manufacturer to test electrified trucks for all weight classes with costumers until end of 2018. Furthermore, Daimler Trucks, as a comprehensive system provider, is working with the customers on route planning, development of charging infrastructure and vehicle service support. In addition, the newly founded E-Mobility Group will use ten Freightliner e-trucks for research and development purposes to gain further knowledge about e-trucks in the US. DTNA has a goal of starting series production of the electrified trucks in 2021.
Working together with Penske Truck Leasing Corporation and NFI Industries allows us to start with an important phase of the further development of electrified trucks. We call this Co-Creation: Together with our customers, we are working on the best solutions for the usage of e-trucks. As global market leader, we also want to lead in the field of e-trucks. In Penske and NFI, we found innovative partners with whom we take on the challenge together – said Martin Daum, member of the Daimler Board of Management for Trucks and Buses.
20 e-trucks for Penske Truck Leasing Corp., NFI Industries gets 10 vehicles
Penske Truck Leasing Corporation is a leading global transportation services provider operating more than 270.000 vehicles and serving customers from more than 1.000 locations in North America, South America, Europe, Australia and Asia. Penske will get ten Freightliner eCascadia heavy duty trucks for regional delivery and ten medium duty eM2 for local operations in the Northwest Pacific and in California.
Penske is committed to bringing the most effective commercial vehicle technologies to our customers – said Brian Hard, President and CEO of Penske Truck Leasing. We have had a long, collaborative relationship working with Daimler and its Freightliner brand. We are encouraged by the progress Daimler has made with their electric vehicle platforms for heavy duty and medium duty applications. We look forward to our continued cooperation and co-creation with Daimler on these electric vehicles as we operate them within our expansive logistics, truck leasing and rental fleets.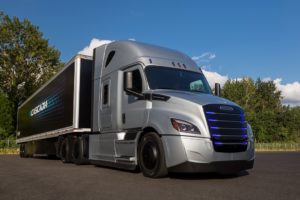 Logistics specialist NFI Industries holds a fleet of 4.000 tractors and approx. 8.900 trailers in North America. Ten Freightliner eCascadias will be delivered to NFI for drayage activities from the ports of Los Angeles and Long Beach to warehouses in California's Inland Empire metro region.
Innovation is what moves the world and business forward. At NFI, we value collaborating with other companies that share our commitment to developing new and better products and processes for our industry and the communities in which we operate. The eCascadia is just that – said Sid Brown, CEO of NFI. Freightliner is known for bringing practical, transformative solutions to market. We're proud to partner with them in development of the Freightliner Electric Innovation Fleet. We fully expect it to be successful and a significant benefit to an untold number of people and communities.