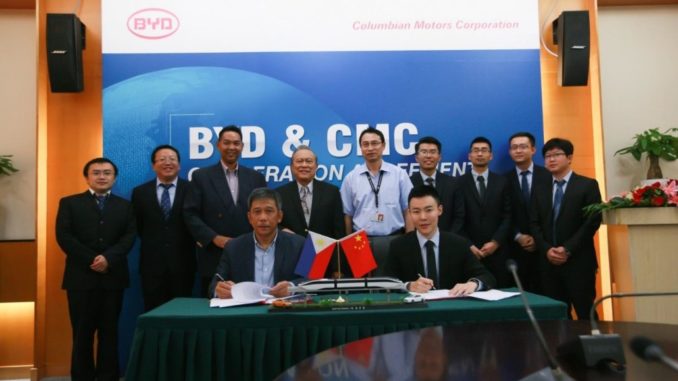 Source: BYD
Manila, Philippines. 6th November 2017. New energy technology company BYD is one step closer towards realizing its vision of bringing its full suite of new energy transport vehicles to the Philippines. The development came as BYD signed a mutual Cooperation Agreementwith Columbian Motors Corporation (CMC) to export the Shenzhen-based company's pure electric buses and pure electric trucks to the nation.
Liu Xueliang, General Manager of BYD Asia Pacific Auto Sales Division and Jose ChavezAlvarez, Governor of Palawan,were among the dignitaries present at the signing ceremony. The event also saw the signing of a separate agreement to deliver 10 BYD K9s and 12 BYD T4s to CMC by mid-February 2018.
Based in the southern Chinese technology hub of Shenzhen, BYD has grown its presence in the Philippines over the past five years as part of its global expansion. Its suite of products in this south-east Asian archipelago has expanded from conventional vehicle to new energy vehicle.
BYD and the city of Iloilo are currently exploring the possibility of constructing a 20-kilometre SkyRail monorail by 2019.
"Air pollution and traffic congestion are twin problems many cities around the world are faced with," said Liu Xueliang, General Manager for BYD Asia Pacific Auto Sales Division. "We are very excited to bring more of our solutions to the Philippines to create a cleaner living environment for everyone."
BYD's K9 pure electric bus can travel up to a maximum speed of 70km per hour with a range of up to 200kilometers. It is operational in the Canadian city of Alberta and is currently running in Kyoto, Japan.BYD's T4 pure electric vans are equipped with lithium batteries, permanent magnet synchronous motors and a maximum speed of 100 km per hour. The footprint of BYD new energy vehicle has landed in 50 countries and regions and over 200 cities.
no images were found