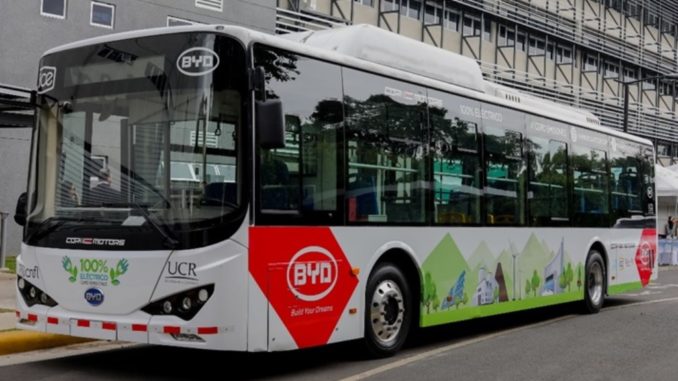 The first pilot plan to Costa Rica decarbonization that incorporate pure electric buses has been launched by BYD's local dealership.
Promoted and supported by Costa Rica's First Lady, Mrs. Claudia Dobles Camargo, the local government has been developing electric mobility strategies to help the country reduce its carbon emissions and pollution.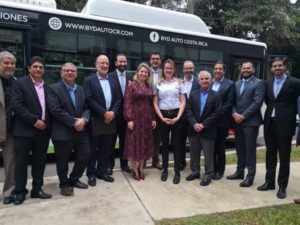 The event represented an important milestone and a huge step towards the nation's decarbonization plan and involves the Office of the First Lady of the Republic, the Costa Rican Energy Institute (ICE), the National Force and Light Company (CNFL) and the University of Costa Rica (UCR).
The public-private partnership agreement — signed by BYD, ICE, CNFL, and the UCR — seeks to carry out feasibility studies that will allow evaluating the first steps towards introducing electric mobility to the country's public transportation system.
According to the pilot plan, the BYD electric bus will undergo a three-month testing period serving the University of Costa Rica's internal bus route, carrying more than 143,000 students, professors, and employees. The bus boasts an average range of 250 km and has the capacity to transport 80 passengers, including a limited mobility passenger area and wheelchair access ramp. ICE and CNFL were responsible for the installation of an electric charging station in the UCR campus.
We are happy to bring the first pure electric bus for this inaugural pilot launch at the University of Costa Rica today. Starting this month, students will be able to commute between campuses on the BYD electric bus, which offers an improved riding experience that is silent and smooth as compared to traditional buses, while using clean energy – said Claudia Dobles Camargo, the First Lady of the Republic of Costa Rica at the ceremony.
Source: BYD