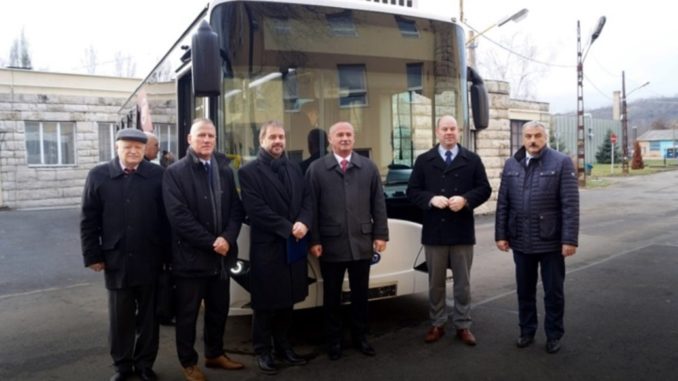 In an official ceremony in Salgótarján, BYD has delivered the first 12m ebus to the Hungarian market that will operate in that northern Hungarian city.
It is the city's first electric bus. The ceremony was witnessed and speeches were delivered by Gyula Pomázi, Deputy State Secretary of Hungary and Zsolt Fekete, Mayor of Salgótarján.
The first Hungarian order is another milestone for BYD this year, after having confirmed ebus orders in two other new European markets: Portugal and Denmark. BYD has now confirmed sales of over 600 ebuses in twelve European countries and strengthened its position as the number one supplier of electric buses in Europe.
The bus to Salgótarján was built in BYD's first European owned electric bus plant in Komarom, Hungary. This plant has been running since April 2017 and has already delivered bus fleets to the Netherlands and Sweden, and is now producing buses for Brussels Airport Company. The factory has already started production of electric bus chassis for customers in the UK.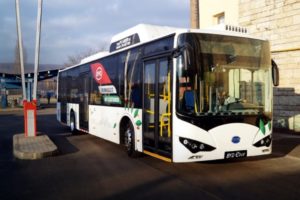 Gyula Pomázi, Deputy State Secretary Hungary:
Fast, secure and convenient traffic systems are greatly contributing to raising living standards. For this reason, one of our main goals in public transportation is to increase the current number of passengers by making public transportation more attractive, with providing services of comfort, safety and obviously environmental emissions are some decisive factors too. One of the key objectives of the Ministry's new bus strategy- which is now on the table of the government- is to achieve a newer vehicle fleet, to provide lower air pollution, which is most easily achieved by purchasing new, state-of-the-art vehicles.
Isbrand Ho, Managing Director at BYD Europe:
We are very pleased to enter the Hungarian market and especially the city of Salgótarján. It is the first Hungarian town that will experience our proven and reliable BYD bus. We are looking forward to help turn Hungary green and to play a bigger role in increasing contributions to improving air quality on city streets here. Not only will the people of today benefit but also our children and the generations to come. We are looking forward to a very successful cooperation.