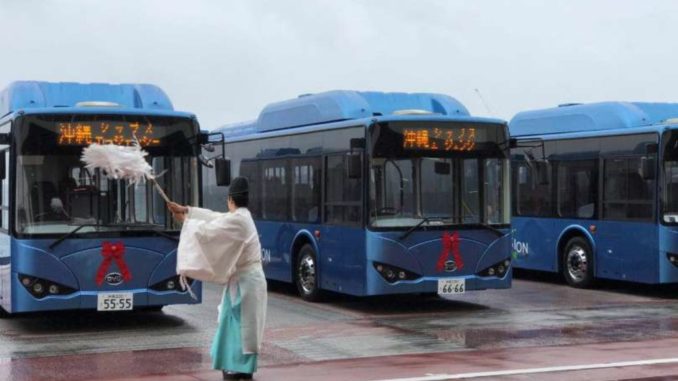 A fleet of 10 pure electric buses manufactured by Chinese new energy technology company BYD started operating on the Japanese island of Okinawa, marking the beginning of the island's electrified public transportation initiative.
10 BYD K9 buses now run a shuttle service to and from the Okinawa Naha Port. BYD is the only Chinese automaker to enter the Japanese market, and only with pure electric vehicles.
This is not the first time BYD has delivered its e-buses to Japan.
In 2015, five BYD K9 buses started running in the city of Kyoto. This time, Japan placed the additional order to operate the K9 fleet in the historic city of Okinawa, which hosts millions of visitors each year.
A Japanese local government official spoke highly of BYD:
"After the outstanding performance of the BYD K9 fleet operation in Kyoto, we were compelled to bring this model to Okinawa. This is the first time that a zero-emission, pure electric mode of public transportation is implemented in Okinawa, and I hope this will be a widespread model throughout Japan."
Guo Yan, an envoy from the Chinese embassy in Japan said:
"It's so rewarding to see the BYD bus delivery representing Chinese companies' strength of independent innovation, making the most of this new momentum of technological revolution to seize strategic opportunities, while tackling energy and environmental issues to improve the everyday lives of Okinawans and Japanese people at large."

"We hope to bring more environmentally friendly travel experiences to Japanese citizens and visitors alike, and promote the development of sustainable public transportation in Japan. We are confident that BYD's experience in commercial operations in hundreds of cities around the world will ensure the success of this undertaking," said Liu Xueliang, General Manager of BYD's Asia-Pacific Auto Sales Division.
At present, BYD's electric vehicles have a footprint in more than 200 cities across 50 countries and regions.