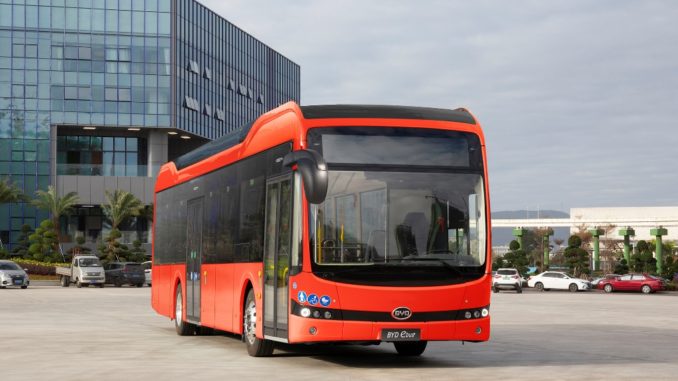 Deutsche Bahn signed the first order for 5 latest generation 12-metre BYD eBus equipped with a host of new technical innovations.
DB Regio Bus is the national bus transport division of one of Germany's largest transport operators, Deutsche Bahn.
In a significant move, BYD and Deutsche Bahn have together signed a framework agreement paving the way for further BYD eBus orders in 2021.
Initially, a total of five pure-electric, emissions-free 12-metre BYD eBuses will enter service with DB Regio Bus later this year in Ettlingen, in the federal state of Baden-Württemburg.
The order from DB Regio Bus is the first for BYD's latest generation 12-metre, low-floor eBus model. Launched at Busworld in 2019, the new, enhanced model features a host of upgrades including an all-new air-conditioning system, a '6-in-1' controller which integrates the vehicle's principle electronic components, a larger 422 kWh battery capacity, and BYD's FleetLink vehicle monitoring system to provide PTO's with a highly effective fleet management tool.
From an interior and exterior design perspective, BYD's iF award-winning 'Home from Home' concept combines a dynamic visual aesthetic with high levels of safety and comfort to deliver a complete sense of well-being for passengers.
Source: BYD