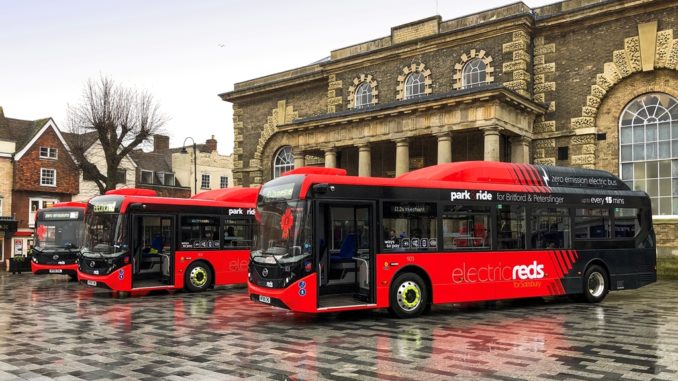 Salisbury Reds, the bus operator based in Wiltshire, part of the Go South Coast group of companies, has put in service three BYD ADL Enviro200EV single decks.
The total investment of £1.2 million has been subsidised with £600,000 government funding following a successful submission by Wiltshire Council.
The electric buses, liveried as 'electric reds', are now in operation on Park & Ride services for Britford and Petersfinger. Each new vehicle is expected to delivery an annual saving of 32.2 tonnes of CO2 and 15.5 tonnes of NOx when compared to an equivalent diesel-powered vehicle. With 24 seats and an overall 66 passenger capacity, the 10.8-metre BYD ADL Enviro200EV achieves 160 miles on a single charge. Power is delivered through its pure-electric drivetrain comprising 330 kWh electric motor and Iron-Phosphate batteries.
Source: BYD