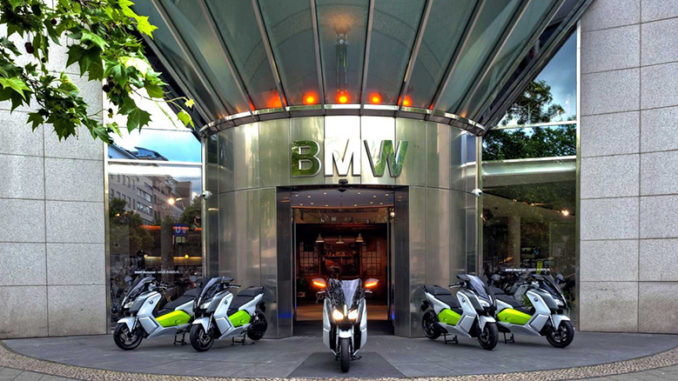 Discover the federal capital or the beauty of Northern Germany with the electric Maxi Scooter BMW C Evolution.
Source: BMW Motorrad
Munich, Germany. 31st July 2017. Whether sightseeing in Berlin or pure nature in the Harz region, six BMW C evolution in Berlin are now available in the BMW Haus am Kurfürstendamm and MMS Concept in Osterode am Harz. Whether you are a potential buyer, a visitor or a tourist, everyone can register for a guided tour with the electric scooter. Only a valid driving license of class A1, A2 or A is required.
BMW C evolution Tour – an unforgettable experience
Apart from a spontaneous city tour through Berlin, with all the highlights and sights of the metropolis, also half-day trips through the charming landscape in the Harz Mountains. The almost silent and absolutely emission-free sweep along with the electric scooter from BMW Motorrad guarantees the participants a new, incomparable driving experience. The tours are accompanied by professional tour guides.
For 49.00 euro glide through the city
The tour of Berlin takes about two hours and leads through the most interesting streets of the metropolis. The price is 49.00 Euro per person. In addition to the innovative C evolution, BMW Motorrad also provides the protective clothing in the form of helmet, jacket and gloves.
Landscape tour on quiet soles
In the Harz half-day tours from 99.00 Euro are offered, which are adapted to the preferences and the driving skills of the participants. The right motorcycle clothing has to be provided here. For details on registration and further information, please visit:
Berlin: www.c-evolution-tour.com
Harz: www.e-tours.de
no images were found