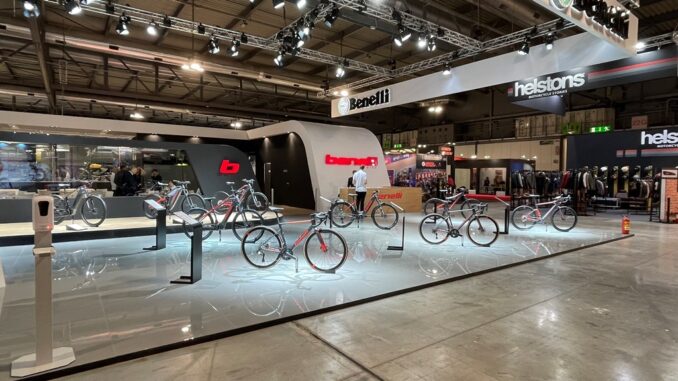 Benelli bike is joining the two-wheeled action at EICMA 2022 presenting new models for 2023, offering a sneak peek of the latest bicycles.
EICMA 2022 in Milan signs the first time for Benelli Bike, also referred as a BBike and provides them with the opportunity to introduce the brand to the European market. At Benelli Bike's exposition booth, the newest models are on display along with more information about the history-rich brand and their upcoming plans.
Benelli Bike is a new bicycle brand that's inspired by a long history of Italian engineering and design on two wheels. As the name suggests, they are part of the renowned Benelli motorcycle brand which has been producing motorcycles in Pesaro, Italy since its founding in 1911, more than one hundred years ago. BBike leverages Benelli's expertise in two-wheeled design to produce the latest-and-greatest in bicycle technology that pays homage to Italian bicycling and motorcycling excellence.
The international brand carries out operations in Italy and America with close manufacturing contacts in China. The global team encourages new and diverse ideas while the strong Italian heritage guides the bicycles' design and aesthetics, staying true to our roots. BBike is already active in several markets across the world and EICMA 2022 marks their long-awaited introduction into the European market, one of the best places for two-wheeled enthusiasts.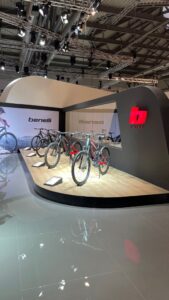 BBike stands out from the pack with a competitive lineup of bicycles across several disciplines, all available at an excellent value. There are aluminum frames in addition to high-quality carbon fiber models with a range of componentry options to match riders' specific preferences. Product categories include MTB, road, gravel, e-MTB, and e-urban bicycles.
At following the models that they displaying at EICMA 2022, that are only a small selection of their extensive range: Electric mountain bikes flatten out the hills so you can explore more trails than ever. Full-suspension and hardtail options handle as well as analog MTBs while providing a boost so you can ride farther, complete more laps, or shuttle yourself up the mountain:
E-M23 2.0 EXP CARB 720
E-M23 5.0 EXP CARB 29 FS 720
E-M23 6.0 PRO AL 29 720
E-M23 7.0 PRO AL 29 FS 720 SUV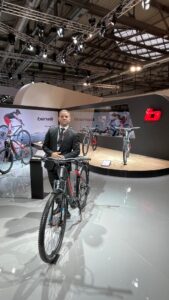 For the MTB purists, there's nothing standard about their traditional mountain bikes designed to smash descents and conquer the slopes:
E-urban bikes are perfect for commuters and help you arrive at your destination sweat-free thanks to powerful motors and city-proof components:
E-U23 1.0 PRO AL 720 WMN SUV
E-U23 1.0 PRO CARB DISK 504
Join the fastest-growing cycling discipline and hop on a gravel bike, complete with road geometry with MTB-inspired capabilities for off-road adventures:
BBIKE has turned up the dial in the road bike range, now offering top-of-the-line Shimano Di2 electronic shifting on our fastest models:
R23 6.0 ELITE CARB DISK Di2 LW
R23 6.0 EXP CARB DISK Di2 LW
Source: Benelli Bike