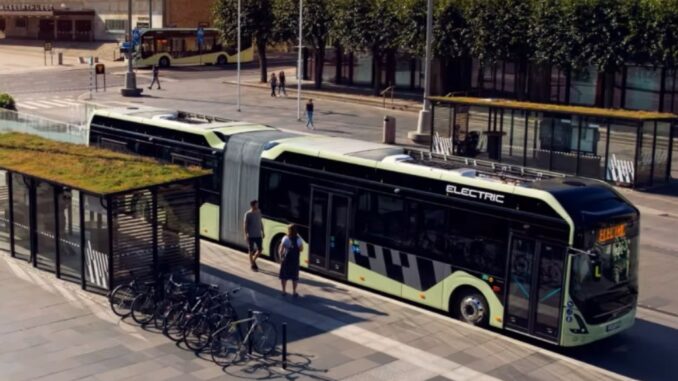 Volvo Buses celebrates in Mexico its 25th anniversary launching electric buses manufactured locally at the Tultitlán Volvo Buses plant in Mexico.
The entire city bus manufactured in Mexico represents the most sustainable solution for urban transport in the country.
Volvo Buses is at the forefront of the transformation towards electric city- and intercity passenger transport, configuring specific solutions in close collaboration with each of the cities involved and each of its customers. This includes everything from efficient electric buses to infrastructure and project implementation.
Volvo Buses' extensive experience in the Mexican market ensures that we can provide customers with a comprehensive solution that goes beyond just electric buses – says Rafael Kisel, President of Volvo Group Mexico. We are involved in the planning and dimensioning processes, taking into consideration the requirements of each route and type of operation. We supply the buses and the charging infrastructure and provide services and spare parts for both, as well as financing for the entire system.

With its new Luminus electric bus, Volvo Buses guarantees continuous operation, the best total cost of ownership and full support during the useful life of the bus. In addition, Volvo Buses is the only brand to have developed a circularity model that will allow the batteries to be used for other purposes at the end of their useful life in the buses, which endorses Volvo Buses' commitment to the environment and society.
Volvo Buses will continue to invest in research and development for its portfolio of zero emission products and we will go on expanding our after-sales service network throughout Mexico – says Rafael Kisel.
The new Luminus is based on proven Volvo BZL technology and comes in different lengths from 9.7 to 13 metres, as well as battery configurations ranging from 280 to 470 kWh, with the battery pack positioned to make the best use of all the interior space.
This sustainable transport solution has predictive safety systems, such as pedestrian and cyclist detection, and speed limit adjustments by the Zone Management system. In addition, with its low entrance and the widest central door on the market, it guarantees universal access and efficiency in ascents and descents. With this electric bus, Volvo Buses also offers the ultimate travel experience for passengers, providing them with comfortable, spacious interiors and more enjoyable journeys with wireless internet and USB ports for mobile devices.
Source: Volvo Buses