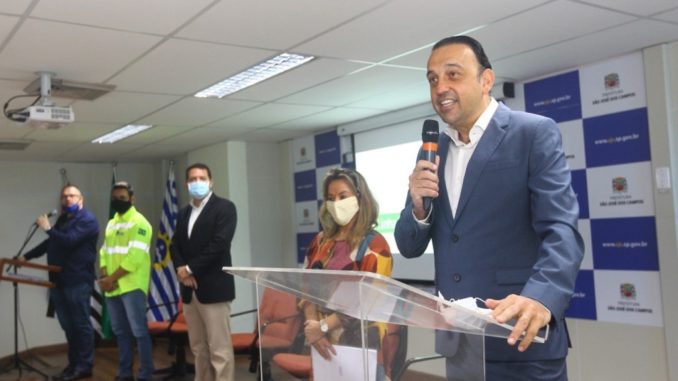 Twelve pure electric articulated buses will be supplied by BYD to the new Green Line Project corridor, in the city of São José dos Campos.
That will be the the main urban mobility project of the first pure electric green bus corridor (BRT), in São Paulo state, Brazil.
The signing of the contract between the city of São José dos Campos and BYD was carried out on April 29. All the buses will be delivered in the next 18 months. The corridor's first stage will have 14.5 kilometers, connecting the south and east regions – the most populous of the city – as well as the central region.
The 12 units of 22-meter-long articulated buses will be manufactured by BYD in its facility in Campinas, which produces the pure electric bus chassis sold in the country. The plant installed in Campinas in 2015 has an annual production capacity of 720 chassis and could be doubled the capacity according to the production plan.
BYD Brazil's Country Manager, Tyler Li, BYD Brazil's Legal Manager, Gabriella Masetto, São José dos Campos Secretary of Transport and Mobility, Paulo Guimarães, and São José dos Campos Mayor, Felicio Ramuth were also present at the signing of the contract. On the same date, a contract was also signed by the companies Compec Galasso and Geosonda, which will be responsible for the works of the first phase of the corridor.
According to the City Hall of São José dos Campos, the Green Line was developed to meet modern concepts of urban planning, in line with the guidelines of the cities' Master Plan. The main goal is to promote urban and economic development, preserving the environment with a Rapid Mass Transit inspired by the most advanced systems in the world (Bus Rapid Transit). The green corridor will also have 75,000 square meters and includes, in addition to the express corridor, four squares along the route.
The City of São José dos Campos was innovative in implementing, in 2018, a fleet of 100% electric cars for its entire Municipal Guard with BYD e5 and e6 models. After a year, the city celebrated extra savings of R$ 850 thousand with fuel. Before the implementation of the new models, the Municipal Guard spent R$ 933.6 thousand on gasoline and alcohol per year. With electricity to supply the fleet of 30 cars, R$ 156.6 thousand were spent in the same period. In addition, with the fully electric fleet, leased under a contract with BYD, the City Hall stopped emitting around 400 tons of CO2 (carbon dioxide) into the atmosphere during the first year of operation of the new system.
Source: BYD