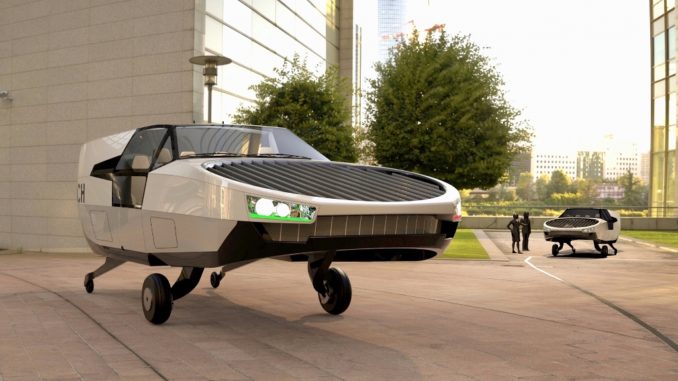 Israel proposes a zero-emission, hydrogen-based flying car solution, the Metro Skyways' eVTOL CityHawk.
The Metro Skyways eVTOL (electric Vertical Take Off & Landing) CityHawk, 100% owned by the Israeli Urban Aeronautics, wants to be the paradigm for urban transport and emergency services within a radius of 150 km with a speed of 270 km/h.
The aircraft is a flying car from 6 to 14 seats with vertical take-off and landing, will meet the certification requirements of the US Federal Aviation Administration and will be driven by two intubated rotors, driven, in the H2 version, by electric motors powered by fuel cells hydrogen.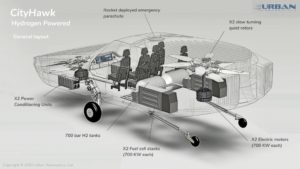 The absence of external rotating blades and its technology will allow a limited environmental impact, with a phonic footprint of 70 dbA at 250 m and zero CO2 emissions, the space necessary for take-off and landing will be 3×8 m. The load capacity is equivalent to 760 kg.
The company's goal is to create a sustainable, safe and commercially viable mass aviation system by the end of the current decade.
In a note, the company said:
CityHawks are designed to develop and host evolving technologies, from the use of artificial intelligence to hydrogen.
Raf Yoeli, CEO of Urban Aeronautics, then stressed:
A kilogram of batteries produces 5% of energy, a kilogram of aeronautical kerosene 100% and a kilogram of hydrogen fuel cells 300%.
The development of the most suitable battery solutions makes use of the collaboration of the Californian HyPoint.
Finally, Yoeli emphasized the weight of the batteries in comparison with the hydrogen tanks, remembering that every 70 kg of mass saved earns the equivalent in commercial load.
#LucaPaoloSalvatori #theEMNteam