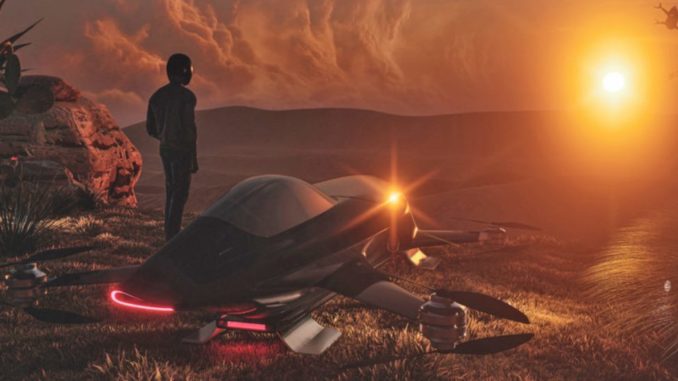 A South Australian company Alauda has been funding from leading technology venture capital firms to build a manned multicopter to compete in its flying electric car racing series.
Alauda will use the investment to ramp up design and manufacture of its vehicle, which it aims to test with a pilot aboard before the end of the year.
Alauda also owns Airspeeder, the racing league that plans to host a flying car series at various global locations from as early as next year.
The company announced this month it had secured funding from two of Australia's leading technology venture capital firms, Saltwater Capital and Jelix Ventures. Leading FX and money management firm EQUALS and German logistics company DHL have also both backed Alauda with support and funds.
Alauda formed in 2015 and also has an office in London in close proximity to international motorsport bodies and global brands.
Founder Matt Pearson said the aim was to have the series up and running with all teams initially using the Alauda vehicle.
He said competition would drive the flying car industry forward, as it had done with motorsport and aviation 100 years ago.
It's pretty much what Formula E did to move very quickly and they built a billion-dollar-sport in about seven years – Pearson said.

They worked with a single manufacturer for the chassis and the powertrain and it was down to driver skill and a bit of luck for the first few seasons and then after the third season they started bringing in other constructors and manufacturers and opening up a bit.

We think this is a great way to drive the industry forward and a fantastic way to prove out new technologies and create innovations that will go back into the autonomous vehicle and the air mobility industry as it matures.

Henry Ford famously said motor racing was invented five minutes after the second car was built – and aviation was exactly the same.

Now those two things are fusing I don't see why it's going to be so different for flying cars and certainly for tech development.
The carbon fibre Alauda multicopter has four arms with two electric motors on each and weighs just 150kg. A collision avoidance system is being developed using a combination of radar, LiDAR and machine vision to protect pilots.
The great thing about a multicopter is each electric motor is a single moving part so it's a much simpler vehicle than a helicopter, which has thousands of moving parts and a single point of failure – Pearson said.

A multicopter has eight moving parts and four of those are redundant because if you lose a motor you can still fly – if you lose a whole arm you can still fly so it's going to be simpler, lower cost to maintain and ultimately you're going to have a much safer vehicle.

The safety systems we're developing at Alauda are all around giving the pilot control but having the robotics system there to keep you safe.

My dream is to be able to develop really powerful performance vehicles you can fly yourself that are easier than driving a car but the autonomous system is there to stop you getting in trouble and that's where we get the dream of the Jetson's right."
Pearson is also Chief Operating Officer of Fleet Space Technologies, a nanosatellite communications company based across the road from Alauda's technical facility in Adelaide's western suburbs.
Adelaide is emerging as a Southern Hemisphere hub for the space industry and is home to major defence primes, a number of emerging space startups and the Australian Space Agency.
The South Australian capital is also home to Cohda Wireless, a global leader in collision avoidance systems for autonomous vehicles.
Pearson said having locations in Adelaide and London was a good mix for Alauda.
There's so much technology innovation happening at the moment in South Australia that it's kind of the place to be and with the progressive UAV laws in Australia, sunny days and open desert it's got the right mix of requirements for us – he said.

The home of international motorsport is London so that's where the big sponsors and partners are and we want to be part of that as well so it's important for us to have an international presence where we can get a seat at the table with a lot of global brands' HQs.
Source: The Lead South Australia