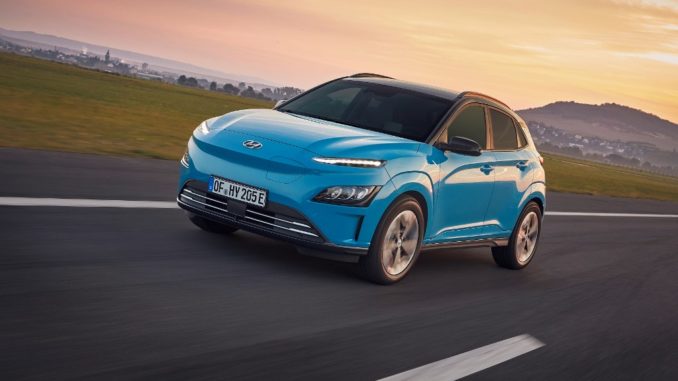 Ci sono numerosi aggiornamenti nella Nuova Kona Electric recentemente presentata, sulla quale la casa coreana offre novità a livello di design, tecnologia e praticità.
Hyundai Kona Electric ha avuto un grande successo e in soli due anni sono state oltre 120.000 le unità vendute a livello mondiale, delle quali più di 53.000 in Europa.
Ora, Nuova Kona Electric ha ricevuto importanti aggiornamenti nel design, per un look nuovo e puro, e nelle dotazioni di sicurezza e tecnologie avanzate.
Quando abbiamo lanciato Kona Electric nel 2018 come primo SUV compatto interamente elettrico al mondo, il modello ha rappresentato un importante passo avanti per la mobilità elettrica accessibile – afferma Andreas-Christoph Hofmann, Vice President Marketing and Product di Hyundai Motor Europe. Con Nuova Kona Electric, stiamo dimostrando l'impegno di Hyundai nei confronti della guida a zero emissioni, offrendo ai nostri clienti migliorate funzionalità di assistenza alla guida e di sicurezza, fattori che rendono il modello ancor più attraente.
Un design puro ed elegante che richiama alla mobilità elettrica pulita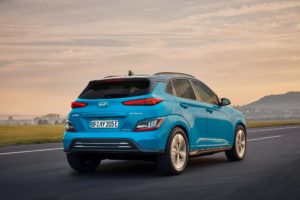 Il design di Nuova Kona Electric esprime la sua eccezionale tecnologia elettrica e diventa ancora più riconoscibile su strada grazie alla combinazione tra linee pulite e filanti, che si uniscono a uno stile da vero SUV.
Il frontale con la griglia chiusa e dal design inedito è caratterizzato da un look puro e pulito, che viene completata dallo sportellino di ricarica asimmetrico, caratteristica peculiare di Kona Electric che vuole rappresentare una forte presa di posizione sulla guida a zero emissioni, e dalle nuove luci diurne a LED.
Nuova Kona Electric offre un nuovo look inconfondibile e sofisticato, caratterizzato dai nuovi fari taglienti che si estendono verso il fianco. La lunetta interna dei fanali LED high-tech integra la tecnologia multifaceted reflector (MFR). Le prese d'aria verticali poste davanti ai passaruota ne migliorano l'aerodinamica, riducendo efficacemente la turbolenza in corrispondenza della ruota. La presa d'aria nel paraurti inferiore sembra essere più pronunciata e viene valorizzata dai dettagli satinati con design a linee orizzontali. Il paraurti posteriore mantiene i dettagli a linee orizzontali per aggiungere valore al look della vettura, mentre i nuovi fari LED posteriori allungati richiamano l'aspetto del frontale.
Nuova Kona Electric è lunga 25 millimetri in più rispetto alla versione precedente, garantendo un aspetto dinamico e deciso ed è disponibile con una gamma di nuovi colori per la carrozzeria, configurabili anche con l'opzione del tetto a contrasto.
Colori per la carrozzeria:
 [Nuovo] Dive in Jeju

 [Nuovo] Silky Bronze

 [Nuovo] Shimmering Silver

 [Nuovo] Ignite Flame

 [Nuovo] Misty Jungle

 [Nuovo] Surfy Blue

 [Nuovo] Teal

 [Nuovo] Cyber Grey

 [Nuovo] Atlas White

 Pulse Red

 Phantom Black

 Galactic Grey

 Dark Knight

 Sunset Red

 Engine Red

 Chalk White
 Tetto bicolore opzionale: Phantom Black
 Tetto bicolore opzionale: Chalk White
N.B. la disponibilità di colori potrebbe variare a seconda del mercato
Interni aggiornati con tecnologie innovative
Per la prima volta Nuova Kona Electric è dotata di un cluster digitale da 10.25'', mentre il display centrale da 10.25'' compreso di navigatore (AVN) rimane quello introdotto su Kona Electric Model Year 2020. L'unità AVN rende sempre più accessibile la connettività per i clienti Hyundai, integrando funzionalità multimediali e di connettività, tra cui Bluelink, Hyundai LIVE Services, Apple CarPlay e Android Auto. Il display audio con schermo touchscreen da 8'' permette invece di connettere in modalità wireless gli smartphone ad Apple CarPlay e Android Auto.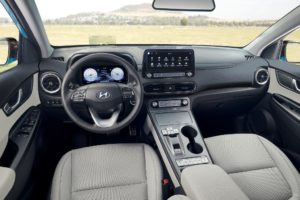 I clienti di Nuova Kona Electric possono anche contare sul nuovo aggiornamento Bluelink, che permette di controllare l'auto attraverso il proprio smartphone o la propria voce. L'applicazione mostra l'autonomia e lo stato di carica della batteria, oltre ai tempi di ricarica quando il veicolo è collegato a colonnine pubbliche o private. Gli utenti possono inoltre accedere a un avanzato sistema di gestione della batteria, così da poter selezionare i tempi di ricarica che meglio si adattano ai loro impegni o al loro budget, ad esempio sfruttando al massimo i prezzi dell'elettricità fuori dagli orari di punta.
Grazie alla funzione Remote Charging, i clienti di Nuova Kona Electric possono far partire o interrompere la ricarica tramite l'app Bluelink, semplicemente premendo un bottone sui loro smartphone. Il controllo remoto della climatizzazione (Remote Climate Control) permette agli utenti di programmare l'orario in cui vorrebbero preriscaldare la loro vettura, quando è connessa a una fonte di alimentazione esterna. Oltre a offrire un comfort aggiuntivo ai passeggeri, tutto questo permette di risparmiare carica della batteria che sarebbe altrimenti utilizzata per riscaldare il veicolo durante la marcia.
Il più recente aggiornamento di Bluelink risulta ancor più pratico grazie a una serie di nuove funzionalità di connettività avanzate.
La nuova tecnologia delle ambient light illumina la parte inferiore dell'abitacolo del passeggero e del conducente, enfatizzando così il carattere lifestyle del modello.
Per una maggiore personalizzazione, i clienti possono scegliere tra due pacchetti di colorazione interna: il pacchetto monocolore nero è disponibile in stoffa, in un mix di stoffa e pelle o completamente in pelle. In alternativa, il pacchetto bicolore grigio è disponibile con un mix stoffa-pelle mélange o in pelle.
N.B. la disponibilità di colori potrebbe variare a seconda del mercato
Autonomia leader del segmento
Nuova Hyundai Kona Electric offre due diversi powertain elettrici a zero emissioni che non scendono a compromessi in termini di prestazioni.
La versione long-range con batteria da 64 kWh è dotata di un motore elettrico da 204 CV (150 kW) di potenza massima, che permette a Kona Electric di accelerare da 0 a 100 km/h in 7,9 secondi. La versione standard ha una batteria da 39,2 kWh e un motore da 136 CV (100 kW), garantendo uno 0-100 km/h in 9,9 secondi. La versione con batteria da 64 kWh è capace di una velocità massima di 167 km/h, mentre la versione con batteria da 39,2 kWh arriva a 155 km/h.
Entrambe le versioni sprigionano 395 Nm di coppia immediata, rendendo Nuova Kona Electric divertente da guidare con una piena potenza disponibile all'istante.
Fin dal suo lancio nel 2018, Kona Electric si è distinta per una delle migliori autonomie EV nel suo segmento. Con l'introduzione dei nuovi pneumatici sul Model Year 2020, la versione con batteria da 64 kWh offre un'autonomia al vertice della classe di 484 chilometri (WLTP) con una sola ricarica, mentre il modello da 39,2 kWh arriva fino a 305 chilometri (WLTP).
Il sistema shift-by-wire permette di selezionare le marce e le diverse modalità di guida attraverso dei semplici bottoni, mentre il sistema Smart Adjustable Regenerative Braking permette a Nuova Kona Electric di impostare autonomamente il livello della frenata rigenerativa, recuperando così energia aggiuntiva, mentre i paddle dietro al volante permettono al conducente di regolarla in base alle proprie preferenze.
La frenata rigenerativa viene portata al massimo quando il paddle sinistro viene tenuto premuto, permettendo al guidatore persino di fermare completamente l'auto senza intervenire sul pedale del freno.
Ricaricare la batteria agli ioni polimeri di litio dal 10% all'80% richiede solo 47 minuti, utilizzando un caricatore rapido (DC) da 100 kW. Kona Electric può essere dotata di un caricatore di bordo trifase da 10,5 kW, che consente tempi di ricarica notevolmente più brevi utilizzando colonnine di ricarica AC trifase o wall-box compatibili. I clienti hanno anche la possibilità di ricaricare la loro vettura dalla normale rete elettrica domestica, attraverso il cavo ICCB (In-Cable Control Box).
Tipo di alimentatore
Kona Electric

64kWh

Kona Electric

39,2kWh

Ricarica rapida DC
10-80%
Caricatore da 50kW
64min
48min
Caricatore da 100kW
47min
47min
Ricarica normale AC
10-100%
Caricatore di bordo da 7,2kW
9h 15min
6h
Caricatore di bordo da 10,5kW
6h 50min
4h 20min
Ricarica ICCB
10-100%
(220V/12A)
28h
17h
Ancora più funzionalità di sicurezza al vertice della categoria
Nuova Kona Electric è dotata di un completo e innovativo pacchetto di sicurezza per una maggiore tranquillità di clienti e passeggeri. Sono ora inclusi ancora più sistemi di sicurezza attiva e assistenza alla guida al vertice della categoria della famiglia Hyundai SmartSense.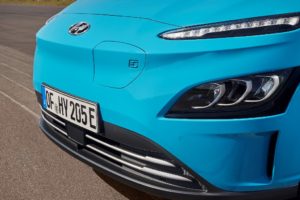 Tra le funzionalità Hyundai SmartSense aggiornate presenti su Nuova Kona Electric si trova il Rear Cross-Traffic Collision Avoidance (RCCA) e il Blind Spot Collision Avoidance (BCA) che attivano i freni quando necessario, oltre a fornire avvisi ai guidatori. L'RCCA evita le collisioni durante la retromarcia, frenando quando vengono rilevati altri veicoli in arrivo dal fianco. Il sistema BCA, invece, aziona i freni per prevenire una collisione se viene rilevato un altro mezzo in corrispondenza del punto cieco e il conducente tenta di cambiare corsia.
Tra le altre nuove funzioni presenti sul modello anche l'Avviso di Ripartenza (LVDA), che avverte il conducente quando il veicolo che lo precede inizia ad avanzare, e le funzioni di sicurezza Safety Exit Warning (SEW) e Rear Seat Alert (RSA). Il SEW avverte i passeggeri se l'uscita dal veicolo non è sicura a causa di veicoli in avvicinamento, mentre l'RSA è una funzione di controllo delle portiere che registra l'eventuale apertura di quelle posteriori prima della partenza. Al termine della guida e all'apertura della portiera del guidatore, il sistema avvisa il conducente della presenza di persone e oggetti sul divano posteriore nel caso in cui le rispettive portiere non venissero aperte. Nuova Kona è inoltre equipaggiata con eCall, funzione che avvisa automaticamente i servizi di emergenza in caso di attivazione degli airbag o ​​quando il pulsante eCall viene premuto.
Funzioni di sicurezza Hyundai SmartSense:
 [Nuovo] Blind-Spot Collision-Avoidance Assist (BCA)
 [Nuovo] Rear Cross-Traffic Collision-Avoidance Assist (RCCA)
 [Nuovo] Avviso di Ripartenza (LVDA)
 [Nuovo] Safe Exit Warning (SEW)
 [Nuovo] Rear Seat Alert (RSA)
 Frenata Autonoma di Emergenza con Rilevamento Veicoli, Pedoni e Ciclisti (FCA-Ped)
 Smart Cruise Control with Stop & Go (SCC con S&G)
 Lane Following Assist (LFA)
 Lane Keeping Assist (LKA)
 Riconoscimento dei Limiti di Velocità (ISLW)
 Driver Attention Warning (DAW)
Comfort e abitabilità
Una serie di nuove caratteristiche all'insegna della praticità garantiscono viaggi ancora più confortevoli anche per i passeggeri sui sedili posteriori, che possono contare su sedute riscaldate e nuove porte USB per ricaricare i dispositivi a bordo. Infine, il freno di stazionamento elettrico attivabile con la semplice pressione di un pulsante garantisce una maggiore sicurezza al guidatore.
Charge myHyundai
Hyundai ha recentemente annunciato il lancio di Charge myHyundai, servizio integrato di ricarica pubblica dedicato alla regione europea. Questo significa che i proprietari di Nuova Kona Electric potranno accedere a oltre 170.000 punti di ricarica presenti in tutta Europa, usando una soluzione semplificata di pagamento tramite un'unica tessera o app. I clienti possono localizzare facilmente le stazioni di ricarica attraverso il sistema AVN.
Charge myHyundai è in fase di introduzione in sei mercati europei: Italia, Francia, Spagna, Norvegia, Repubblica Ceca e Svizzera. Per i clienti del Regno Unito il servizio verrà attivato nel quarto trimetre del 2020, mentre Hyundai pianifica di allargare in futuro l'offerta anche ai clienti di altri paesi.
Fonte: Hyundai Italia