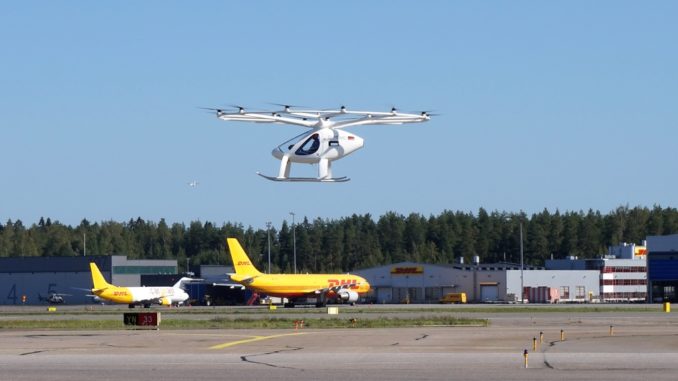 After the first public flight of a Volocopter air taxi in a European city took place in Stuttgart last September, a lot of people had experience about air taxi flying at close range.
The flight at the Mercedes-Benz Museum in Stuttgart was part of a research project to investigate the acceptance of air taxis in the society.
At the "Vision Smart City" initiative, the Hochschule für Technik Stuttgart – a University of Applied Sciences – asked a total of 1.203 participants about their personal attitudes towards air taxis. In contrast to previous studies in which the participants had to imagine air taxi technology, the respondents were able to experience an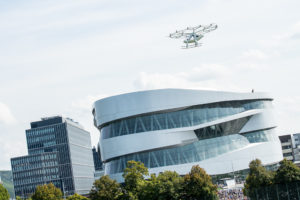 actual air taxi flight. Thus, for the first time, a realistic evaluation of the public opinion on air taxis could be retrieved. A part of the sample was additionally questioned before and after the flight in order to better understand the effect of experiencing a live demo flight.
The most important study results are:
Air taxis are no longer a futuristic vision; the majority of the participants can already imagine using them today. Time saving in particular, but also the joy of usage, are currently seen as the greatest advantages.
The societal acceptance is high as well. More than 80 percent of the participants would support an offering of a Volocopter service in Stuttgart. The respondents were particularly positive in their assessment of the effects on the overall mobility offer and the perception of the city of Stuttgart as a location for innovation.
Almost half of the participants currently believe that air taxis will become an everyday means of transport at some point in the future.
Participants, who experienced the live Volocopter flight rated it significantly quieter than expected. The intention to use the Volocopter remains at the same high level after experiencing the flight.
The results also show that people with more prior knowledge about air taxis have a higher intention of usage and fewer reservations, so a further increase in acceptance can be expected when the technology becomes better known.
A field study during the first flight of an air taxi in a European city
In addition to the Hochschule für Technik Stuttgart – a University of Applied Sciences – the Lab1886 of Mercedes-Benz AG, the Volocopter GmbH, the State Ministry of Baden-Württemberg and the City of Stuttgart were involved in the project, which was supported by the BMVI's mFUND research initiative and were all represented at the "Vision Smart City" initiative on the 14th and 15th September.
Source: Volocopter Gmbh