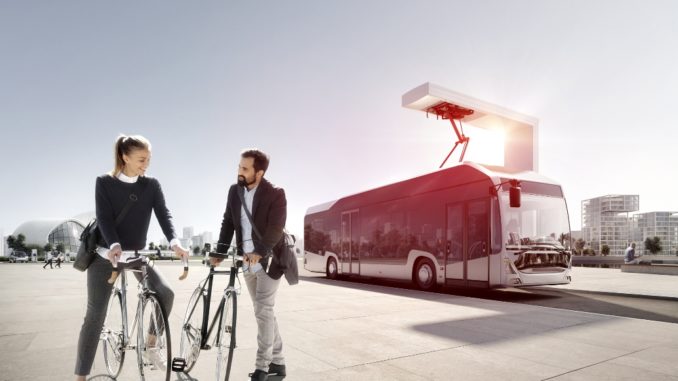 The order for the complete fast charging solution in the city of Aarhus, Denmark, for the first electric buses has been won by ABB.
The order includes four electric buses from Volvo and OppCharge opportunity charging from ABB and has been commissioned by Denmark's second largest city and its local bus operator Busselskabet Aarhus Sporveje.
The buses will replace four diesel busses and thus contribute to reducing air pollution from public transportation in Aarhus.
For the customer, Busselskabet Aarhus Sporveje, the investment in electric transportation is based on several drivers. Finn Mikkelsen, CEO comments:
Busselskabet Aarhus Sporveje is iso-certified in environmental management, so we are very aware of our impact on the environment. This investment in electric transportation reduces noise as well as air pollution, which benefits the environment as well as the customer experience.

We are excited to test and gain experience with this new technology under normal operating conditions. This investment represents a very positive initiative between the municipality and the PTA to promote the use of electric busses in Aarhus and other nearby cities.
ABB will supply a 300 kW OppCharge fast charger, which will be situated at the end point of the 15 km long route of line 13, where the bus will be recharged. OppCharge is an open interface for the automated charging of both single and double deck electric buses, from any manufacturer, using a pantograph on the infrastructure to connect the bus to the charging point.
The order also includes four ABB HVC-Overnight Chargers for installation at the depot where the buses will be stored.
Frank Muehlon, Head of ABB's global business for EV Charging Infrastructure explains:
We are proud to be involved in this significant step forward in sustainable travel in Aarhus. We are working hard to build a smarter and greener network and believe that EV technology is the key to driving-up efficient transport systems across Europe and beyond.
The chargers come with ABB Ability connected solutions, which increase visibility and control of infrastructure networks, while minimizing downtime and increasing efficiency. ABB Ability, which is ABB's unified, cross-industry digital offering, delivers web-enabled connectivity that allows network operators to monitor and configurate the charge points from any location. Driver issues can be resolved remotely and equipment can be services with minimal downtime. It offers flexibility to connect to any charging network, back-office or energy management solution.
The order will be commissioned in the second quarter of 2019 and the electric buses are expected to be in operation in Aarhus by August 2019.
ABB's fast charging solutions are based on IEC 61851-23, the international standard for fast charging of electric vehicles. This ensures the appropriate safety systems are in place, the electrical design is in accordance with regulations, and the systems architecture and working principles are supported by the wider automotive community in the future.