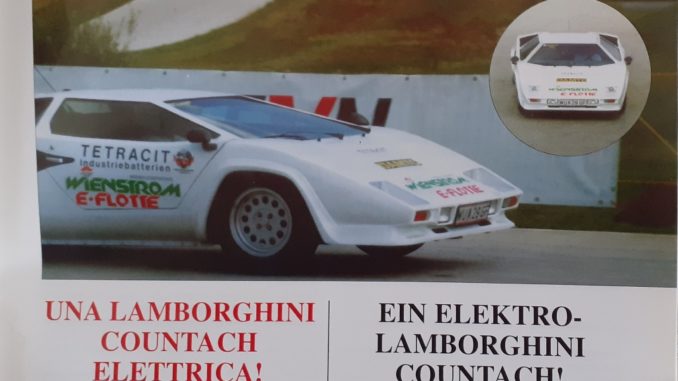 Leafing through the first issue of Electric Motor News of January 2000, we found an interesting curiosity and we decided to bring it back.
It is a particular car, faithfully rebuilt in an electric version, which had taken part in the 1999 Teesdorf EVN Cup, one of the most important electric car races of that time organized by the EVN (Vienna Energy) company in the circuit. of Teesdorf which was used for homologation and driving school tests by the OAMTC, the Austrian Automobile Club.
Here is the article reported on Electric Motor News …
An electric Lamborghini Countach!
In the EVN Cup in Teesdorf, Austria, a special car was raced. Not so much for its performance, because it is a copy of the Lamborghini Countach but an electric version.
The Austrian Christian Eberl from Untertullnerbach, a city a few kilometres from Linz, decided to build this car.
The body was built in polyester and fiberglass and was equipped with two 30 kW (each one) electric engines, 30 Saft NiCd batteries with a total of 180 Volt and electronics from Swiss Brusa company.
The car is homologated for street circulation and Christian Eberl said "I've done more than 80.000 km in Wien".
In the photo, the vehicle participating in the last EVN Cup of Teesdorf.
by Marcelo Padin, from Electric Motor News issue n° 1, january 2000