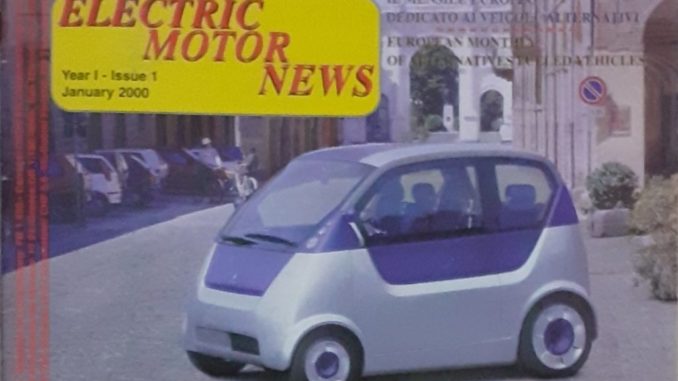 In 2020 Electric Motor News turns twenty years old, from the first monthly magazine dated January 2000, the cover of which you can see in one of the photos.
In twenty years there have been many changes, not only in the world but also in Electric Motor News, which has adapted to new communication methods thanks to the valid collaborators who have worked – and still work – to offer valid information of the sector.
Last year, over two million contacts consulted Electric Motor News in the various channels where it is present and our good intentions for the year of the twentieth anniversary are to significantly increase these numbers through some initiatives planned during 2020.
We decided to offer you the editorial of the number 1 of Electric Motor News of January 2000 … because we found out that it seems it was written yesterday.
Year two thousand, new era
We are about to enter the third millennium and the industrial countries objective is to try to improve quality of life.

In the last few years, atmospheric, acustic and environmental pollution has intensified in many cities and regions worldwide.

Mobility however is necessary in our life and in spite of the modern era of Internet, it will continue to be important for a lot of time yet.

For this reason, an intelligent means of mobility with minimal impact to the environment and possibly compatible with the three vital elements such as earth, water and air must only contribute to improve our well-being and existence. The freedom to be able to choose an intelligent means of mobility must be supported by complete and correct information.

This concept and the conscious need to offer correct and complete information in the alternative vehicle field, has push us in this new adventure: this monthly issue will be dedicated principally to all the latest news in the field, towards the initiatives conocerning developments and future applications, all in four languages (English, French, German and Italian).

To guarantee the quality of information we have entrusted a valid group of collaborators in five continents: from Europe to the United States, from Asia to Australia, we can say that our ecological consciuousness is to rule worldwide.
Mario Di Lella, Editor