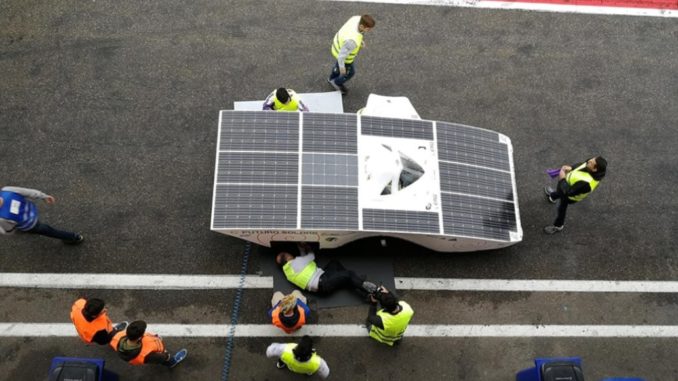 L'associazione siracusana 'Futuro Solare' con il veicolo solare Archimede 1.1, ha partecipato alla 24 ore 'Ilumen European Solar Challange'.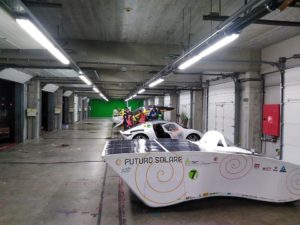 La gara si è svolta in Belgio, nel circuito automobilistico di Zolder, i giorni 22- 23 settembre. Si tratta di una competizione sportiva riservata ad autovetture alimentate con energia solare, progettate e realizzate da università ed istituti tecnici di tutto il mondo.
La Futuro Solare, presieduta dal vulcanico Enzo Di Bella, sviluppa la mobilità eco-sostenibile attraverso la ricerca di sistemi energetici applicati all'autotrazione con una filosofia "low cost" che ha portato alla realizzazione di Archimede 1.0, prototipo che partecipò per la prima volta alla gara del circuito di Zolder nel 2016, tagliando il traguardo con 0 penalità e 404 km percorsi in 24 ore di gara.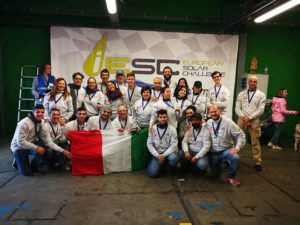 La gara di quest'anno si è svolta all'insegna di due ininterrotti giorni di pioggia, condizioni meteo che hanno messo a dura prova tutte le vetture partecipanti progettate per operare in regime di sole pieno. Moltissime rotture e problemi a livello di isolamento elettrico e tenuta meccanica hanno influenzato il risultato della gara che ha visto vittoriosi l'Univertsità di Lodz Polonia nella classe Cruiser e il Team dell'Universita di Twente (twenty student members of Saxion University of Applied Sciences and the University of Twente.) nella classe Challenger.
La solar car Archimede 1.1 ha ben figurato classificandosi in 14° posizione assoluta e 8°posto di categoria su 22 team partecipanti, nonostante i molti problemi tecnici dovuti alle avverse condizioni meteo, fronteggiati grazie alle capacità tecniche e le competenze da parte di tutti i componenti del team. Proprio per questo motivo il team Futuro Solare ha vinto il premio "Spirit of the Event", riconoscimento che la giuria riserva al miglior team della competizione.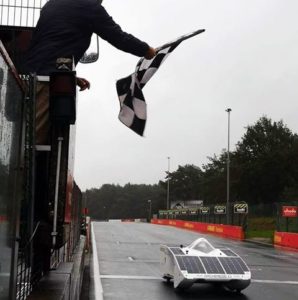 Nell'ottica di miglioramenti e soluzioni tecnologiche sempre più avanzate per potenziare le prestazione della vettura, con abnegazione e impegno di tutti i soci e degli studenti dell'istituto tecnico industriale Enrico Fermi di Siracusa, si è giunti, dopo 2 anni di lavoro, alla considerevole riduzione delle masse, ai miglioramenti energetici e a una migliore gestione del pacco batterie. Tutto ciò è Archimede 1.1, un vero e proprio laboratorio dove il team può sperimentare per acquisire esperienza e conoscenza da applicare allo sviluppo, già in corso, di una nuova e più ambiziosa vettura: Archimede 2.0, il primo prototipo di spider 2 posti sportivo a energia solare.
Il progetto oltre ad avere una valenza scientifica ha dei forti connotati sociali coinvolgendo attivamente giovani studenti universitari e di scuola media superiore da istituti tecnici. Questo messaggio di speranza verrà veicolato realizzando un cortometraggio che non solo verrà proiettato gratuitamente in tutte le scuole medie superiori e università italiane, ma sarà destinato anche ai più prestigiosi film festival europei. È un forte messaggio di cambiamento, inteso come miglioramento delle condizioni sociali, ambientali ed economiche dei nostri territori, e un invito a riporre fiducia sulle capacità innovative dei nostri giovani, uniche vere risorse inesauribili di progresso e civiltà. Questo è principalmente il valore di questa associazione di Siracusa che negli anni ha percorso tanta strada, una strada ancora lunga da condividere con le imprese del territorio e con chiunque voglia aderire a sostegno di questo progetto, per il bene comune, per l'ambiente e per un futuro migliore.