Volland Racing, the German motorsport experts will graduate to the FIA World Rallycross Championship's leading electric support series Projekt E.
Owned and run by successful rallycross driver and constructor Rolf Volland, the team is a multiple champion in the FIA European Rallycross Super1600 Championship, and has been the dominant force of the category in recent years with its latest Audi A1s.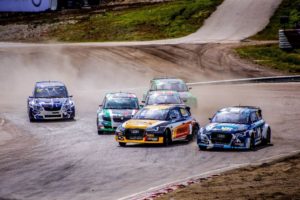 In 2021 the team will expand. In addition to its Super1600 programme, Volland's team will also compete in Projekt E, the world's first electric rallycross category, created as a collaboration between World Rallycross promotor IMG and technical partner STARD, based in Austria.
The four-wheel-drive cars in Projekt E use STARD's identical REVelution powertrain system, with three electric motors producing 450kW (613bhp) combined power and 1002Nm of instantaneous torque.
Volland Racing could make its Projekt E debut in the final round of the 2020 season at the legendary Nurburging circuit in Germany, December 12-13, before it expands its Projekt E effort in 2021 and beyond.
Rolf Volland, Team Principal
The future clearly belongs to the electric powertrains on the road, just like in racing, I'm absolutely convinced of that, and it's just made for the fast, explosive short races in rallycross. In my opinion, it's the only alternative for the future. As a designer and constructor, it's important to accept this future, and to help shape it too. As a team manager and race instructor, it is also important to me to introduce young drivers – not only from my team – to this future as well. #projekte is the best option for this. We might manage to run the first car already at the 2020 WRX Nürburgring this December before the 2021 full season. That would be amazing.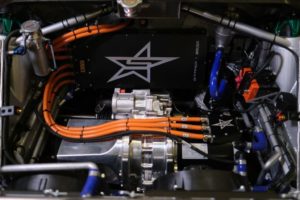 Michael Sakowicz, STARD CEO and founder
We've been in close contact with Rolf since our official launch in Riga last year and he has followed the development carefully. Everybody who knows him also knows he is not a person who rushes into anything, but always thinks his plans through very carefully. It will be a great option for drivers looking for a top level yet cost efficient, proven arrive and drive package. Rolf's team is one of the most experienced and successful teams in rallycross. Having Volland Racing enter Projekt E is a strong confirmation of the series and technical concept, which from day one was designed to offer customer motorsport companies an opportunity to run their own electric cars. It's also great that this ensures a third brand for Projekt E.
Projekt E
Projekt E is the official support series for the FIA World Rallycross Championship and is for all-electric racecars based on production cars and using the REVelution powertrain developed and supplied by STARD.
In 2020 Projekt E will take place at four events in Sweden, Latvia, Belgium and Germany.
Source: Projekt E
NextGEN Gallery
Modifica
Cancella