Volkswagen ha scelto Romain Dumas per il suo ritorno a Pikes Peak. Il 24 giugno prossimo, a oltre trent'anni dall'ultima partecipazione, la Casa tedesca parteciperà alla "Race to the Cloud" con un prototipo interamente elettrico, e ha deciso di affidarsi all'esperto francese, campione del mondo WEC nel 2016, due volte trionfatore a Le Mans e, soprattutto, tre volte vincitore della cronoscalata più famosa del mondo.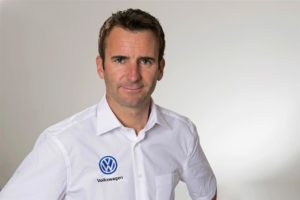 L'obiettivo di Volkswagen è quello di battere il record tra le vetture elettriche, fissato nel 2016 a 8:57.118 da Rhys Millen con il suo prototipo e0 PP100. I regolamenti permettono ampi livelli di discrezionalità tecnica in questa categoria e questo, nelle parole di Sven Smeets, direttore di Volkswagen Motorsport, permetterà al team tedesco di "dimostrare l'efficienza della tecnologia per le batterie e i motori elettrici del futuro in un ambiente molto competitivo".
Partecipare alla Pikes Peak 2018 è un passo importante per la strategia di Volkswagen, che punta a diventare leader globale nella produzione di auto elettrificate e che entro il 2025 offrirà oltre 20 modelli full-electric.
Per Dumas sarà la prima volta su un mezzo elettrico a Pikes Peak:
C'è un grande vantaggio nell'avere un'auto elettrica qui: la potenza rimane costante lungo tutti i 20 km del tracciato, e non vedo davvero l'ora di poter guidare per la prima volta al massimo dalla partenza a 2.862 metri fino al traguardo (4.302 metri, ndr). La Pikes Peak è una grande sfida, perché ogni pilota ha solo un tentativo, ma ho molta fiducia in Volkswagen – ha aggiunto. La squadra è molto motivata e ha già dimostrato in numerose occasioni di essere capace di ottenere il successo sin da subito, anche su terreni non familiari.