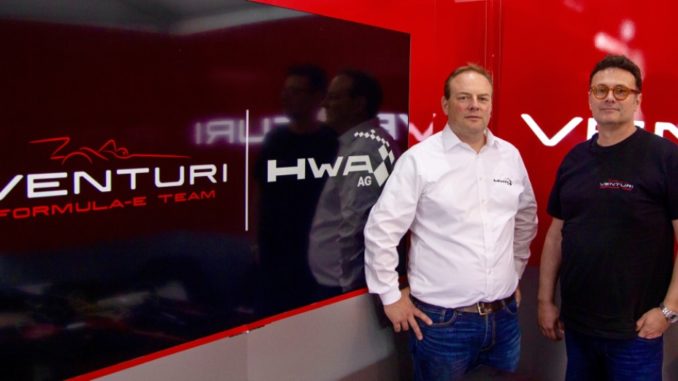 The Monegasque automaker Venturi Automobiles, which has been working with HWA AG for technical support since the start of the 2017-2018 season in Hong Kong, is now deepening on this collaboration agreement with the supply of its "Gen2" car to the HWA AG team that will make his debut in the category.
The car was designed entirely in Monaco by Venturi engineers (based on a Dallara-Spark chassis) and will be completely identical to that used by the Formula E Venturi team.
Venturi Automobiles has almost two decades' experience in electric vehicles, and since 2016 has held the world speed record in the category with 576 km/h. The manufacturer was among the very first to throw its weight behind Formula E, and its president, Gildo Pastor, set up the Venturi Formula E team in 2013 to take part in the championship in its inaugural season.
What they say
I'm delighted to contribute to HWA AG's arrival as a Formula E team by providing them our Venturi Gen2 cars for the next season. Our partnership over the current season is a win for both organisations. I have no doubt that Venturis Automobile's experience in high performance electric vehicles will be a valuable asset for HWA AG, who will be keen to add to an already impressive record.
Gildo Pastor, President of Venturi Automobiles
Formula E is a completely new motorsport discipline with extremely tough competition. It's a challenge that we're very happy to rise to. HWA AG are the most successful team ever in DTM history. Our goal is to continue the company's success story in Formula E. At the same time, Formula E with its unique concept offers a completely new perspective on the future for motorsport. The series is characterised by its innovative pioneering spirit and by its willingness to develop new ways of interacting with the fans. The street races in the heart of some of the world's largest and most important cities open up many opportunities to appeal to an entirely new audience and to get them fired up for racing and for sustainable technologies of the future. In combination with the fierce competition on the racetrack, this is the perfect platform to demonstrate our core competencies on a global stage and to measure ourselves against the best teams.
Ulrich Fritz, CEO of HWA AG
Not only does Formula E have a new-look and unique visual identity for season five with the futuristic next generation car – but we also have exciting news with a new team entering the ABB FIA Formula E Championship in HWA AG. It's rewarding to see a name so synonymous with racing joining the already impressive and growing list of teams and manufacturers competing in Formula E. They have a proven track record in other categories and will surely push to replicate similar achievements in Formula E as we enter a new era of fully-electric racing. I'm glad to welcome Ulrich and HWA AG to the Formula E family. I'm eager to see them hit the track as a customer team later this year.
Alejandro AGAG, Founder & CEO of Formula E