This weekend kick off the FIA ETCR – eTouring Car World Cup, the FIA's first ever electric touring car competition.
Following there is an in-depth overview of the technology and the safety advancements the series relies on.
The world's first all-electric, multi-brand touring car series has a lot in store in 2022, including an innovative, action-packed format and cars that are both challenging to drive and spectacular to look at. At the same time, the series is in line with the FIA's energy transition road map, which focuses on the introduction of sustainable power sources to motor sport.
Most extreme Touring Cars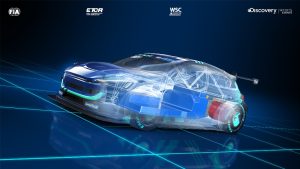 The cars rely on a standard kit supplied to teams by WSC Group, with energy stored in Williams Advanced Engineering battery packs and fed through Magelec Propulsion transmission, motors and inverters.
The cars that must be tamed with two power modes, 300kW and 500kW, with the latter figure translating to 670bhp. Grooved all-weather Goodyear tyres are another aspect that sets FIA ETCR apart from other touring car competitions, while being both sustainable and relevant to the automotive industry, they add to the challenge for the drivers.
Running on clean energy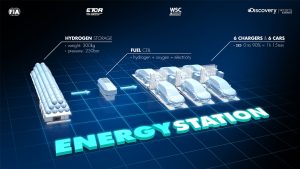 To ensure the FIA ETCR is sustainable, the energy that charges the cars between the sessions is produced using hydrogen. A supply of 300kg of locally sourced hydrogen stored as compressed gas is delivered to each race weekend.
Hydrogen flows into the paddock-based Energy Station where it is used by fuel cells to produce the electricity that recharges the cars' batteries. Unlike batteries, instead of storing energy fuel cells produce it. They also do not run down or need recharging. Instead, through a process which is the reverse of electrolysis of water, by burning hydrogen in oxygen, they convert chemical energy into electricity, with water being the only by-product.
Each fuel cell powers a chain of chargers that are capable of simultaneously recharging up to six cars at 60kW. It takes around an hour and 15 minutes to replenish the cars' batteries from zero up to 90% of their full capacity.
Safety advancements
Leaning on the experience gained over the years of managing high-voltage technologies in motor sport, and working in close collaboration with WSC Group, the FIA has developed a set of high voltage safety procedures in order to mitigate associated risks at FIA ETCR events this season. With batteries running in the region of 800V, the ETCR-spec cars are in the high-voltage domain and therefore require specific attention and care.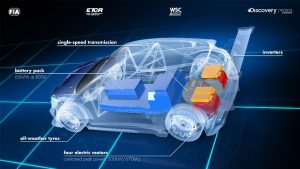 In terms of operational safety, the FIA has studied existing high voltage safety regulations and consulted experts from the field to develop the new FIA e-safety regulations covering equipment, procedures and briefings for all, from officials and volunteers to medical, rescue and recovery crews.
A new role – the FIA e-Safety Delegate – has also been created to oversee the implementation of the new regulations and procedures, to ensure compliance of the installation and teams' equipment, to deliver e-safety briefings and to coordinate on-track interventions.
During all sessions, the FIA e-Safety Delegate will remain on standby in the pits. If an incident occurs, the FIA e-Safety Delegate will be the first person on-site to coordinate rescue and recovery procedures while remaining in contact with Race Control.
All FIA operational staff, including officials and volunteers, must attend a mandatory FIA e-safety briefing delivered on-site. In addition, an online e-learning platform is available prior to the event. These briefings cover areas such as presentation of the cars' technology and associated risks of high voltage, personal protective equipment, safety lights and switches as well as an overview of relevant FIA regulations (including sporting regulation and appendices to the International Sporting Code), in-depth breakdown of procedures and clarification of responsibilities.
Additionally, on-site practical training and simulation exercises will be conducted ahead of every event in 2022. This includes the so-called "red car exercise" and extrication exercises held under the supervision of the FIA Medical Delegate and with the support of the FIA e-Safety Delegate. The purpose is to simulate critical situations involving high-voltage risks.
As with other FIA competitions featuring electric and hybrid-powered vehicles, the cars feature a safety light system indicating when the vehicle is safe to touch. The lights are built into the top part of the windscreen as well as to both side windows of a car. Additionally, another display is placed on the dashboard, in sight of a driver. Finally, the telemetry enables Race Control to have instant information on the state of each car, ensuring readiness for emergency response.
Overall, the FIA e-Safety Regulations' main purpose is to ensure the entire organisation is set up and ready to face and manage efficiently any event related to high-voltage risk, focusing on volunteers, officials, teams and drivers.
Short and sharp
Unlike most motor sport competitions for electric-powered cars, the FIA ETCR doesn't include an energy management element. Instead, each event comprises of series of short, sharp battles, in which drivers accumulate points on their way toward the finals. The format is tailor-made for the needs of the modern media.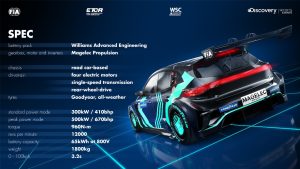 Alan Gow, FIA Touring Car Commission President, said:
Today, we're on the eve of the inaugural FIA ETCR eTouring Car World Cup event and it has been a great pleasure to witness the development of this concept from the original idea to the present day. The cars are truly impressive in terms of performance and their unique demands represent a great challenge for the drivers. The series has all the ingredients necessary to produce a great spectacle and gives us plenty to look forward to this season.
Tim Malyon, FIA Safety Director, said:
The number of motor sport competitions using electric and hybrid powertrains is increasing, therefore management of the risks associated with high-voltage technologies is an important area form a safety standpoint. This is something that has been at the forefront of the work of the FIA's Safety Department in recent years. I am glad we have been able to establish a number of regulations and procedures which aim to ensure the risks of high voltage technologies are well understood and managed by all involved, be those competitors, officials or spectators.
Marcello Lotti, President of WSC Group, said:
With a sense of responsibility towards the touring car racing scene, the WSC Group embarked on the ETCR project with the aim of educating the motor sport community in new technologies that are the future of eco-mobility. ETCR cars sport great racing look and are capable of amazing performance; they will prove to motor sport fans that racing can be exciting with the use of clean energies.
François Ribeiro, Head of Discovery Sports Events, said:
We are exceptionally excited before our first FIA ETCR eTouring Car World Cup event and we are committed to provide a global platform for the world's biggest automotive manufacturers to showcase their latest electric cars in the high-intensity world of motorsport while also showing that electric mobility can be fun, fast and sexy. We do this with safety and sustainability at our core. Discovery Sports Events have worked in unison with the FIA, WSC Group and our stakeholders to ensure that FIA ETCR is an on-track pioneer and we must show global responsibility as well in all of our processes in order to achieve more sustainable motor sport.
Source: FIA – Federation Internationale de l'Automobile