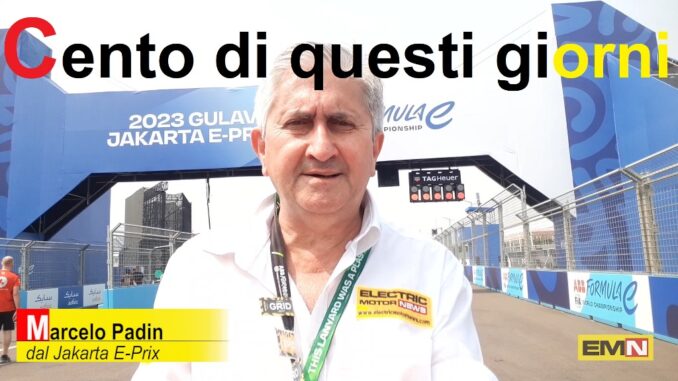 E' innegabile che per noi non è un semplice weekend di Formula E, perché nella gara 2 del Jakarta E-Prix arriviamo ai 100 E-Prix in presenza.
Curiosità vuole che dopo tanti giri per il mondo, abbiamo iniziato dalla zona Asia-Pacifino (a Pechino, in Cina) e raggiungiamo i 100 E-Prix nella stessa zona (a Jakarta, in Indonesia).
Un grande grazie a tutti coloro che hanno collaborato con Electric Motor News; a nostri sponsor perché senza di loro questo sarebbe stato impossibile a anche al nostro pubblico, che ci segue fedele dal primo giorno e che è aumentato con gli anni.
Ora iniziamo con i primi video… a partire dalla consueta introduzione, e poi con le interviste a Lucas di Grassi e James Barclay.
Gara 2 di Jakarta, la centesima di EMN in Formula E
Introduzione al weekend the Jakarta E-Prix di Formula E, con le news dal punto di vista dei piloti, le aspettative per il proseguo del campionato e un importante traguardo per Electric Motor News, quello della 100esima gara di Formula E.
Servizio di Marcelo Padin
Anno difficile per Mahindra
Lucas di Grassi parla di Jakarta in funzione della sua Mahindra, segnalando quando l'anno sia difficile per il team anglo-indiano, e parla anche del feeling per il cambiamento di piloti e in genere di quello che si aspetta per queste due gare.
Intervista di Marcelo Padin
James Barclay in a magic moment
James Barclay, Jaguar TCS Team Principal, speaks in the interview about the magic moment that he is living with both teams powered by Jaguar in the top of the Championship. He speaks also about this weekend and about the nice memories of the last year when Mitch Evans won the Jakarta E-Prix.
In italiano – James Barclay in un momento magico
James Barclay, Team Principal Jaguar TCS, parla nell'intervista del momento magico che sta vivendo con entrambi i team motorizzati Jaguar al vertice del campionato. Parla anche di questo weekend e dei bei ricordi dell'anno scorso, quando Mitch Evans vinse l'E-Prix di Jakarta.
Intervista di Marcelo Padin
Ecco le anteprime fotografiche dei video…