After his first laps in the NIO 333 ER9 Gen3 car we sat down with Sérgio to get his thoughts on his move to the team, his Season 9 preparations and the new era of Formula E racing.
Qu: Welcome to NIO 333! How have you been getting on with your new team?
Sérgio: I have been welcomed by everyone in the team very well and there seems to be a very good working environment here. I'm really looking forward to the season ahead!
Qu: You drove the NIO 333 ER9 Gen 3 car for the first time at a test in Italy and again last week in the UK, what can tell us about driving the car and how did it go?
Sérgio: I had been looking forward to driving the Gen3 car for some time, and was very happy to finally do so in Varano and at Mallory Park last week. Testing was very productive, we covered many items and I slowly built up confidence in the car and a working rhythm with the team.
Qu: You previously publicly mentioned that you wanted to stay in the FIA Formula E World Championship. Why is that and what do you think the Gen3 evolution means for the sport?
Sérgio: Since about season three I had been following Formula E very closely. I have seen the championship grow very rapidly as a sporting event during this time and I have also seen the EV car market grow in adoption and disrupt the traditional car industry. I believe these trends will continue; of course there will be bumps along the way, but in the long run I believe that the FIA Formula E World Championship will reward those who work in it very well, especially those who joined in at an early stage.

Apart from the strategic side of it which I mention above, the championship is also good fun! We get to race in some of the most important cities in the world, very often in the city centre, which makes it very special. I've also always been a fan of street tracks and the unique challenges they bring to a driver.
Qu: What are your personal on-track aims and ambitions for Season 9?
Sérgio: I don't like to set expectations before the first round, I like to go into the first round very open minded and then after we get a snapshot of where each team and driver stands. Then I start setting some expectations.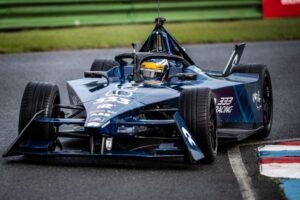 Qu: How are your preparations going and what is your training regime?
Sérgio: The Gen3 car seems very physical; every driver I've spoken to has said the steering wheel is very heavy, so I think that is something we all agree on. So more than ever I will give a special attention to my physical condition this year. Indoor training is great to build strength, outdoor training is where I train cardio, but I also use that time to clear my mind. A major part of my training is also done on simulators, which I try to drive on at least every week. Since we have limited time in the actual team FE car simulator it has become the next best thing.
Qu: NIO 333 Formula E Team is very proud to have been awarded the FIA Three Stars Environmental Accreditation. With Formula E leading the way in environmental awareness and climate action in motorsport, what do you do in your personal life to contribute to aiding the planet?
Sérgio: I try to do my part by not over-consuming and there are so many things that we throw away but that are actually reusable. Of course, these are examples that have a very small impact to the world when measured individually, but if exercised by a group of people can actually have a big impact.

I also try to understand as much as I can about the topics of sustainability and environmental awareness. It is very difficult to take any measures when you don't actually know why you're doing it or what good/harm it is causing, so education is equally as important as action.
Source: NIO 333 Formula E Team