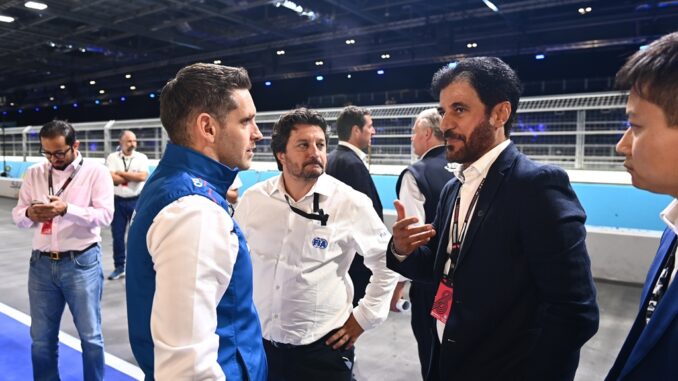 Last september 28 at Silverstone Park, Russell O'Hagan, COO/Deputy Team Principal NIO 333 Formula E Team give an interesting interview where speaks about the team and the FE.
Qu: The team completed a comprehensive Gen3 test with the NIO 333 ER9 in Italy and is at Mallory Park this week – how is it all going?
Russell O'Hagan: The recent test in Varano marked the first opportunity for us to benchmark ourselves against the other five manufacturers. It was incredibly positive and exceeded our expectations. We've felt we have had a good car since the very first Gen3 test, but having comparative running helped cement that. It's a boost for the team in what is essentially the development of our first full car as 333 Racing, and testament to what our team has achieved to date. There's still a long way to go before the first FIA Formula E World Championship race in January 2023, but it feels good to be quietly confident for the season ahead.
Qu: NIO 333 finished Season 8 of the FIA Formula E World Championship with points on the board – how is the team feeling now?
RoH: Season 8 and the last few years have been quite tough for the team as we push to move up the grid. The old adage that 'success breeds success' is true. That doesn't mean winning is easy, far from it, but success brings momentum and confidence which play a big part in driving a team forward in such a relentlessly demanding industry as motorsport. What we as a team have had to build is resilience. Resilience to strive for better when laying yourself bare in competition can really hurt. Being strong enough to keep giving it your all when the results can sting sometimes takes courage and determination. I can't thank the team enough for that approach. I know the hard work will start to bring its own rewards, but the strength required to battle through that interim period has been enormous. It should make us a force to be reckoned with as time goes on.

I would also like to thank the team for their support in allowing us to develop and grow as a team and business quicker than is sometimes comfortable recently. We have had some very ambitious targets and to start realising them in short timeframes has meant we have had to be very lean. We pride ourselves on being efficient, but over the last six months we have needed to move so fast that it's gone beyond that at times. It's been needed in order to take our opportunities as they came to us, but it's not been easy. I look forward to the start of the new season and to us having the resource to consolidate that progress and invest in maintaining the strong team and fighting spirit we have created. We have an amazing group of people here at 333 Racing.
Qu: Sergio Sette Camara has been with NIO 333 for a couple of weeks now, what do you hope he will bring to the team?
RoH: Firstly, it's great to welcome Sergio to the team. We've been hugely impressed by his performances over the last few years and we are delighted to have him join us. We very much knew what we were getting in terms of Sergio as a driver, but on top of that we've been really impressed with him on a human level since he joined NIO 333. He has incredible passion, focus and dedication. We are very proud to have him onboard and I know his pace, energy and enthusiasm will be a big positive on the road ahead. We have very high hopes for what we can all achieve together.
Qu: The start of the Gen3 era of the FIA Formula E World Championship is a 'clean slate' for everyone – what are the team's goals for S9?
RoH: That's a good question. On paper, and a while ago now, we targeted a top eight finish in the teams' championship. Sat here right now, and given the progress we have seen, we are hoping for more. However, it's more important to see Season 9 as the first step of a 4-year plan. We have the aim of being a top three team by Season 12. That may seem ambitious, but it's only bound by practicalities and ones we have mapped out at each point along the way. Achieving that level of success requires resource, management, leadership, time, and consistency. There are no short cuts, no magic solutions. It won't come easy, but it's there for the taking if we can maintain the right focus and direction. Season 9 is about gaining confidence. Showing increased performance and delivering on the trust shown to us by our Official Team Partners, as well as attracting new ones to join our journey to the front.
Qu: What's next in terms of Gen3 preparation for NIO 333 over the coming months?
RoH: In short, a great deal! We are still in the detail of developing the car, but it's a condensed schedule now. In around 10 weeks' time we must be loading our freight with two race-ready cars heading to Valencia for the pre-season test. There is a huge amount to do to bring that about in the right way. We must push development of the test programme as far as we can, build the two race cars and progress all our normal pre-season preparations around equipment, processes, personnel, logistics etc. It's a big undertaking, but we are prepared and embracing the challenges. Role on January 2023 and Round 1 of the new era of all-electric racing in Mexico.
Source: NIO 333 Formula E Team